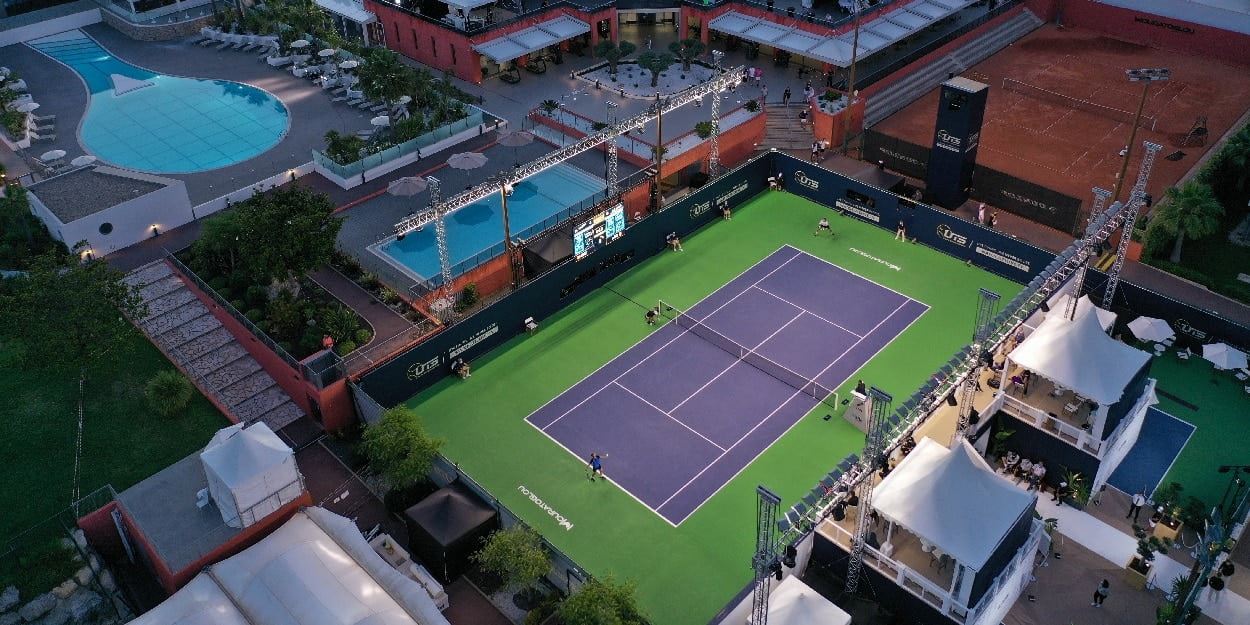 Berrettini beats Tsitsipas in Sudden Death to be crowned first UTS Champion
Five weekend's worth of tennis from the Mouratoglou Academy came to a head on Sunday night, as Stefanos Tsitsipas faced off against Matteo Berrettini in the championship match. Earlier in the day, Tsitsipas had beaten David Goffin in three straight sets, whilst Berrettini had to save match point in Sudden Death to get past home-hope Richard Gasquet. In what was a match truly worthy of the final, Berrettini saved match points to win the match, and the first ever UTS title, in Sudden Death.
When the pair played earlier in the tournament Tsitsipas (world no. 6) had come out on top, edging Berrettini (no. 8) in a thriller, coming from two quarters down to win in Sudden Death. On the ATP Tour their only main draw meeting was in the first round of last year's Australian Open, which the Greek won in four tight sets 6-7(3) 6-4 6-3 7-6(4). They have also played once in qualifiers, at the US Open in 2017, where Tsitsipas was again the winner, but this was their tightest match of all, which ended 6-7(6) 7-6(4) 7-6(2). Another close encounter, therefore, was expected heading into the UTS final and that is exactly what was delivered.
It was Tsitsipas who took the early lead, forging ahead 7-4 on the back of a couple of tight line calls, frustrating his opponent. However, Berrettini was soon gifted an easy volley when using his 'Winner x3' card, and backed that up with an ace to lead 11-9. Tsitsipas could not convert with his own card, but won the two points to level the quarter with still 3 ½ minutes to play. The scores were tied once more at 15-15 and it was Berrettini to serve for the deciding point. After a lengthy rally that took its toll on both men, Tsitsipas hit a difficult shot wide and it was the Italian who drew first blood.
In the second, "The Greek God" again had the early advantage, earning an 8-4 lead. This time it was he who got in first with a card, this time the 'Steal Serve' option, which he used effectively to give himself a six-point cushion before "The Hammer" tried his own luck with the 'Winner x3'. Tsitsipas got a racquet to the first ace attempt but the second was beyond his reach and Berrettini cut the deficit to just two, and soon after they were tied on 10-10. After a brief coaching time-out, the Greek used his own 'Winner x3' to no avail, and Berrettini was able to win another quarter from behind, this time 15-12.
During the changeover, Tsitsipas said it would be a "miracle" if he could turn things around and that looked increasingly true as he immediately fell 4-0 down. Desperate times call for desperate measures and the Greek played his 'Winner x3' card early, finding a second serve ace to help him claw his back to 4-4. The scores were still level at 8-8, and Tsitsipas served well to lead by two before Berrettini played his 'Winner x3' card. On the first he had a golden opportunity for a volley winner but hit the ball into the net, and Tsitsipas then hit the following return into the net, making the score 11-9 to "The Greek God." They were back level once more at 12-12 with Berrettini to serve and just 30 seconds left on the clock. Tsitsipas hit a stunning backhand passing shot to claim the advantage and then a Berrettini double fault ensured that there would be a fourth quarter.
With the momentum now back in his favour, it was Tsitsipas who once more took the initial lead 6-2 in the fourth quarter. At this juncture, Berrettini's coach advised him to use the 'Winner x3' card, which had saved him from similar jams in the first and second quarters, but this time he lost both points and Tsitsipas suddenly found himself with a six-point cushion and no triple-pointers to worry about. 8-2 was soon 12-2 and things looked bleak for Berrettini. Tsitsipas duly took the quarter 15-8 and the match was headed for Sudden Death, just as it had in the pair's first UTS meeting.
The "miracle" was on and Tsitsipas had an opportunity to win an incredible fourth match after trailing by two quarters. After both saving match points, Tsitsipas almost won the match thanks to a lucky net cord but Berrettini somehow recovered and then hit a bullet of a forehand on the next point to claim the title in a thrilling finale. Berrettini won his second Sudden Death match of the day, and got his revenge for losing in the same manner to Tsitsipas last weekend.
Final score: Berrettini d. Tsitsipas 16-15 15-12 12-14 8-15 3-2
Whether the UTS format returns in the future is something that remains to be seen, but for our in-depth look at the tournament as a whole, and for a discussion of its potential moving forward, please click here.