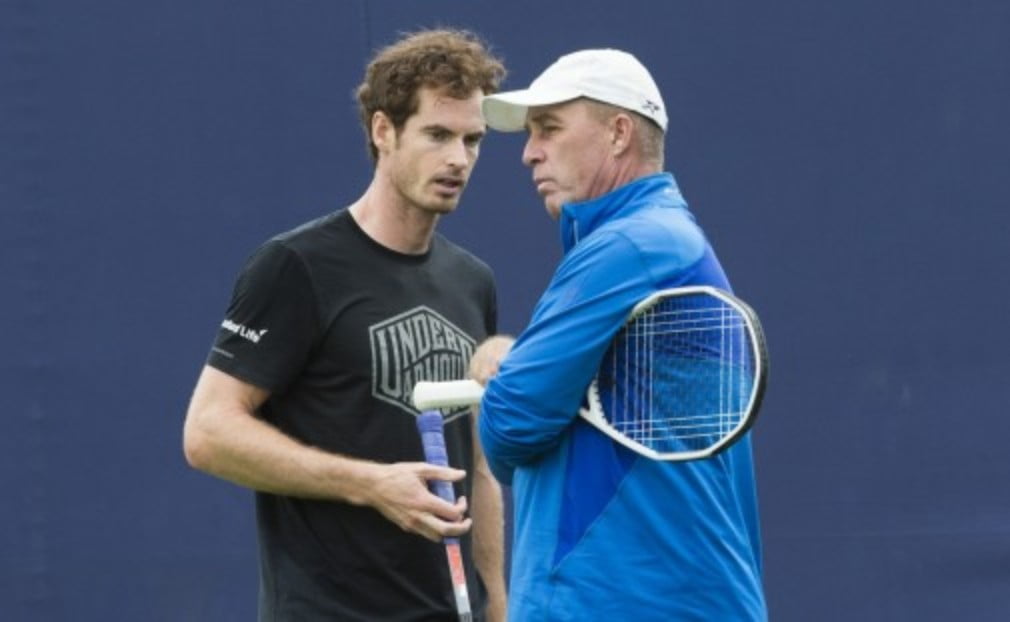 Berdych: Murray harder to beat
Originally published on 08/07/16 00:00
The former world No.1, who helped the Scot win his two Grand Slam trophies at the 2012 US Open and at Wimbledon 2013, rejoined Murray's team at the start of the grass court season.
"I think it's beneficial having him there, for sure, because I trust him, have a lot of confidence in him," said Murray after his quarter-final win over Jo-Wilfried Tsonga. "For sure he can help when I'm on the court a little bit, just his presence. It might [only] be a small amount, but every little bit helps."
Berdych had approached fellow Czech Lendl after the eight-time Grand Slam champion stopped working with Murray in March 2014, but Lendl was not prepared to return to the tour, but two years later he is back in Murray's box.
Berdych, who also worked with Murray's former coach Dani Vallverdu until recently – the Czech started working with new coach Luka Kutanjac at Roland Garros – observed that Murray's game has changed over the years.
The pair first played on the tour in Basel in 2005, and Berdych won four of their first six meetings, but the head-to-head record is now in Murray's favour with eight wins to six, including the last four. Crucially, Murray has won all three Grand Slam meetings – at the 2010 French Open, the 2012 US Open and the 2015 Australian Open.
"I think he went through some changes, different styles when he's playing," said Berdych. "I think in the beginning, he was a bit more defensive, just waiting [to see] what the opponent is going to do. I think it was working pretty well for me. I was able to really dictate the game and play aggressive.
"Now he has become more aggressive, [and] way more creative on the court. He's looking for [ways] to improve, how to be a better player. I think that's the difference."
The pair have never met on grass, but Berdych has enjoyed his best Grand Slam result at Wimbledon – he beat Roger Federer and Novak Djokovic en route to the final in 2010, eventually losing to Rafael Nadal.
"We've played a few times over the last couple of years on different surfaces, but never on grass," said Murray. "I'll have to have a look and see some of his matches to get an idea of maybe some of the things he does differently on the grass courts, what his strengths are, maybe some of the things he struggles with a bit.
"Obviously he's a big guy who serves well. When he's dictating the points, he hits a big ball. He's a powerful guy. Ideally, I don't want to have him dictating all of the points because then I'll be doing a lot of running.
"I know it will be a tough match. I played well against him the last couple of years. The last few years I have been playing more aggressive tennis, playing with a little bit more variety. That has worked well against him."
Milos Raonic (CAN) [6] v Roger Federer (SUI) [3]
First match on Centre Court
A rematch of the 2014 Wimbledon semi-final when Federer won in straight sets before his five-set defeat to Novak Djokovic in the final. This time around Raonic has two years' more experience and is undoubtedly a more rounded, not to mention mature, player than he was in 2014.
The Canadian won their most recent encounter in Brisbane earlier this year, and his performance at Queen's – where he narrowly lost to Andy Murray in the final – showed that he is a tough player to beat on the grass. Both players have won 96% of service games in their first five matches. It remains to be seen how well 34-year-old Federer will recover from his astonishing five-set comeback win over Marin Cilic on Wednesday, but he will need to make a faster start than he did in the quarter-finals.
Prediction: Raonic in four
Tomas Berdych (CZE) [10] v Andy Murray (GBR) [2]
Second match on Centre Court
The last two Grand Slam meetings between the pair have also come in the semi-final stage, and on both occasions Berdych won the first set, only for Murray to respond and seal victory in four sets.
The 2010 Wimbledon finalist has the weapons to beat most players on the grass, and while he might come out firing, his record against Top 10 players is just 49 wins from 163 matches, and you have to go back to 18 months for the last time he beat one of the 'Big Four' – (d. Rafael Nadal, 2015 Australian Open QF). A second-round defeat for Dominic Thiem means Berdych has not had to face a top-10 player during this year's Championships – No.24 seed Alexander Zverev has been his highest ranked opponent so far.
Murray let a two-set lead slip against Tsonga in the quarter-finals, and although much of that was down to a resurgence from the Frenchman, Murray will need to maintain his focus if he is to get the job done and reach the third Wimbledon final of his career.
Prediction: Murray in four