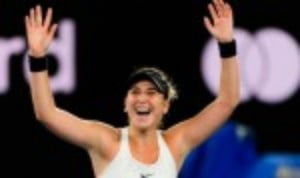 Bencic thrilled with big win
Originally published on 15/01/18 00:00
The opening round clash between Venus Williams and Belinda Bencic had the potential to be a blockbuster, and it certainly delivered on the entertainment factor. It was youth pitted against experience – and the underdog managed to dislodge the veteran 6-3 7-5.
Bencic could scarcely believe she had managed to achieve a first victory over Williams at the fifth attempt, but her attack-minded display meant progression to the next stage was fully merited.
"It means so much to me," said the delighted Swiss post-match.
"I lost to Venus four times and I tried my best to give my all today, and changed some things tactically. I think it was a huge opportunity and I used it, so I was very relived after the match-point."
Bencic, a former Top 10 player, endured a torrid time with physical issues last year and underwent left wrist surgery in May. She found wins difficult to attain when she returned, however her willingness to drop down a level in an effort to rebuild confidence proved to be a wise move.
The 20-year-old finished 2017 with a glut of silverware. She bagged three titles in a row on the ITF Circuit – in Hua Hin, Chinese Taipei and Dubai – and has carried her fine form into the new season.
Bencic's time out of the spotlight helped her take stock and she is simply thrilled to be back competing. "After the injury and the tough times, it's really an amazing feeling," she added.
"It was a difficult five months. I think that changes your perspective lot. I'm enjoying it much more and appreciating that I can just play. I'm not thinking so much about winning and losing, I'm just happy to be on the court."
While Bencic looked sharp and alert, Williams looked sluggish and uncertain. Last year's finalist suffered an early defeat in Sydney last week and her lack of match-time perhaps contributed to her unusually loose performance.
"I think she played well," acknowledged the 37-year-old, after her 18th Australian Open campaign came to a premature end. "I don't think I played a bad match. She just played above and beyond. I just have to give her credit for that.
"I didn't play so bad, I wasn't missing every shot. It just didn't work out."
Bencic will challenge either Luksika Kumkhum or Johanna Larsson in the second round on Wednesday.