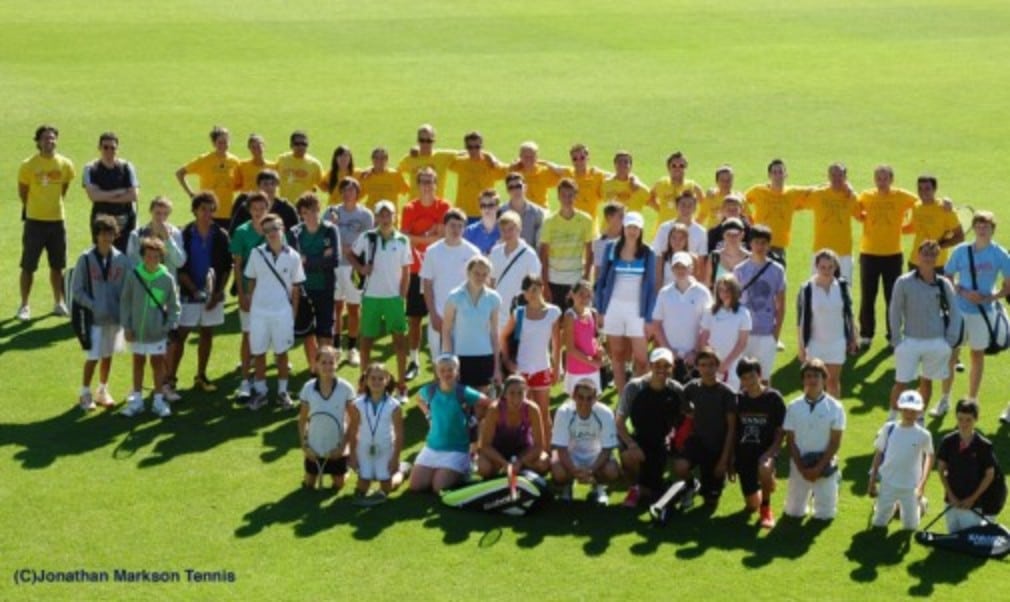 'Being a tennis coach is the best job in the world'
Originally published on 17/03/14
This year Erwan has joined Jonathan Markson Tennis as head coach for its tennis camps in London and Yorkshire. We caught up with him to find out a bit more about his new role as well as his tennis philosophy.
How did you get into tennis?Š—å
I started playing tennis at the age of nine. One adidas wooden racket, a pack of four Dunlop white balls and the virus has never left me. As a kid, Yannick Noah's victory at the 1983 French Open was a revelation. I said: 'That's the sport I wanted to dedicate my life to' and I spent hours and hours hitting against the wall, waiting for next week's tennis lesson.
I was a decent player – the top three in my age group. My French rating in 2014 is the equivalent of 2.2. I am tempted by the ITF seniors – I still love to compete.
How long have you been coaching?
I started my assistant course at the age of 15. I coached mini-tennis before I started coaching full-time athletes in 2001. After being at the French Tennis Federation for two years, I moved to the UK. In 2008 moved to Australia to work with Tennis Australia for two years as Pro Tour Manager.
You've had a wide range of roles within coaching. Would you say that has made you a better coach?
For sure. It has built up my whole vision of tennis coaching. It is a great asset for being a better coach to make sure you completely understand the bigger picture.
When I was younger it was natural to coach the kids and when I have to go back to the youngsters I understand more now what they need. I think it is a way of living; it is a passion of the game that always drives you to learn more.
Do you believe you have to be a good player to make a good tennis coach?
Coaching is different to playing. Coaching is understanding the mechanism of the game. Playing is more putting things in action. It is a complementary job. If you are a good player that doesn't mean you will be interested in coaching, it is a different job.
Tell us a bit more about your role at Jonathan Markson Tennis?
I am very excited about it. I am going to promote the camps in London and Giggleswick. I was looking for a company who had the same values as me. My focus is on tennis. I want to approach the tennis in a different way. I don't just want to go on technique and tactics; I want the player to really have a feel for the game, a feel for the passion of the game and to be even more excited after the camp to play tennis. My priority is to make sure that they enjoy their time on the court.
What's the best thing about your job?
Showing others your passion for the sport, and understanding that there are different ways of playing tennis. There is everything in tennis; success, failure, pressure and new targets. It is a quite complicated sport but hugely rewarding. I love helping players improve, whether they are top athletes or beginners.
What's the worst thing about being a tennis coach?
Absolutely nothing. This is the best job of the world. It's not easy, but it's the best job.
What three words would you use to describe yourself?
Quality, professional, specialist
What advice would you give to youngsters who want to play professional tennis?
Work hard, believe in your project and stay positive all the time.
Who would be your dream doubles partner?Š—å
Roger Federer. Everything seems so easy, relaxed and efficient. It is the ultimate perfection.
What is your favourite city? London. Our kids are in school in London. We have family in France so London is not too far away but I love Melbourne too.
What is the most inspirational thing anyone has ever said to you?
Keep believing your dream.
Jonathan Markson Tennis offer residential and non-residential tennis camps in London, Oxford and Yorkshire as well as tailor-made tennis holidays around the world. To book your place or for more information, visit www.marksontennis.com or call +44 (0)20 7603 2422