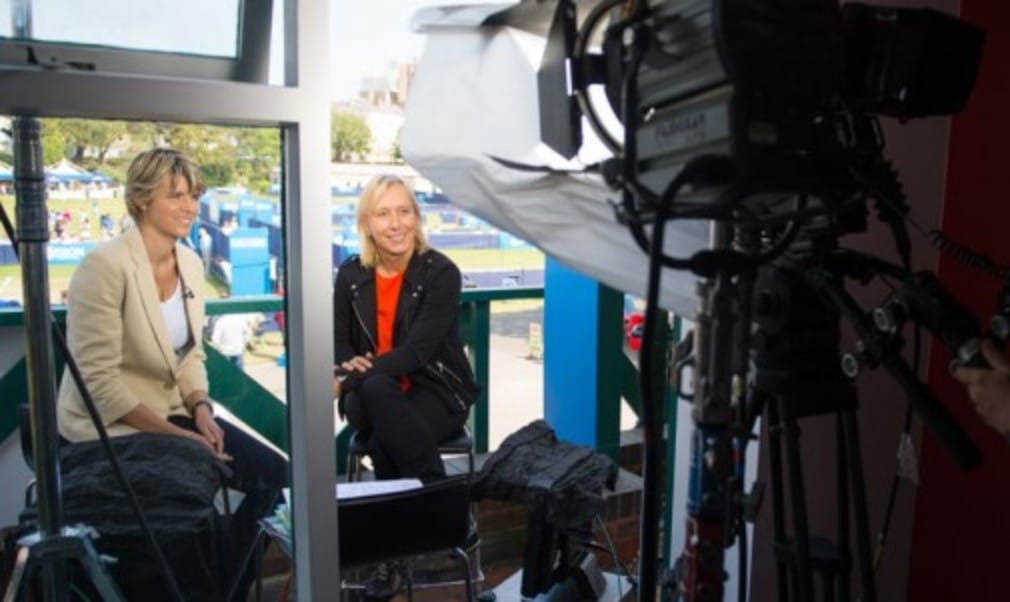 Behind the scenes with Navratilova at Eastbourne
Originally published on 21/06/14
Former British No.1 Sam Smith presents the coverage, while Anne Keothavong has also swapped her tennis racket for the microphone after retiring at the end of last season, joining former coach Nigel Sears in the studio and commentary box as part of the BT Sport team.
But behind the scenes is a team of almost 30 producers, directors, runners, riggers and make-up artists who work together to bring the final product of match action, commentary, analysis and interviews to your TV screens at home.
"Most of the time I know what I am going to say but sometimes things get dropped and put in and I because I don't have an autocue, I do ad lib most of the time," says Smith, who has been working in TV since she retired from the tour in 2001.
"I feel alright doing that because of my experience in the commentary box, where you are always having to think of things to say. The first time I did presenting I was probably a bit more aware of things around me but it's like anything, the more you do the more comfortable you feel in front of the camera."
Smith's most esteemed studio guest is 18-time Grand Slam champion Martina Navratilova. The former world No.1, who won a record 11 titles at Eastbourne between 1978 and 1993, has been back at Devonshire Park sampling life from a very different perspective.
"It's a way to stay connected with the sport," says the former world No.1. "I'm passing on the knowledge I have accumulated over the decades. Even though I am not coaching anybody, I feel like I am trying to educate the people that are watching, and maybe pass on my passion for the sport and maybe get people to play tennis.
"It is better to be on site [as opposed to being in the BT Sport studios in Stratford]. The atmosphere is better – I even got to do some interviews, which I haven't done in years – you can't do that if you're not on site, you just take the feed.
"It's much more difficult to be doing the interviewing than answering the questions. But it's easier to get in trouble answering the questions than asking them!"
Navratilova, who works for the Tennis Channel during the Grand Slams, joined BT Sport as a commentator and analyst after the British telecommunications company secured the TV rights to show WTA tennis in the UK from 2013.
"Working for BT Sport is a good excuse for me to come to Europe more often to visit my sister," she said. "I love being in London, it was just a natural continuation of what I was doing during the Grand Slams, now I get to do it in extra tournaments.
"Obviously I have a good knowledge of the sport, but the biggest thing is knowing when to talk. I think my strength is that if I don't have something interesting to say, don't say anything at all. When in doubt, stay quiet. Make them want to hear more from you, not, 'oh, she never shuts up'. I still get a few comments on Twitter that I talk too much but some people you can't please no matter what.
"The best ones after a match and I get fans from both camps saying how much I favoured the other player – that's when you know you've done a good job – you p*** off everybody!"
After jointly holding the WTA rights with Eurosport in 2013, the women's tennis TV rights are now owned exclusively by BT Sport, who launched its channels on August 1 last year. The channel might be in its infancy, but the team behind the scenes is vastly experienced.
Senior Director Simon Dukes, who joined BT Sport after three years at ESPN is based in the production truck, directing the programme alongside a producer.
"We had been in Birmingham until Sunday and the truck drove straight down overnight," he explains. "On Monday we spent all day rigging and doing rehearsals and came on air on Tuesday.
"We've got a relatively small team of about 30 people. There's a truck providing the match coverage for Centre Court and there's another truck for Court No.1. We've got two cameras on the balcony overlooking the grounds where the presenters are and a roving camera doing interviews and outside court coverage.
"Earlier in the week it is busy but towards the end of the week there's not a huge amount happening on the outside courts. Our longest transmission was Tuesday when we were on until 8:50 in the evening – 10 hours and seven minutes.
"It's definitely more fun being on site. We do 22 WTA events and normally we are in Stratford in a dark studio – it's great to be here and we'd like to do more outside broadcasts. Hopefully we'll have some presence at the WTA Championships at the end of the season in Singapore in October."
'BT Sport's Martina Navratilova, Anne Keothavong and Sam Smith were talking at the AEGON International at Eastbourne which is live on BT Sport 1.'