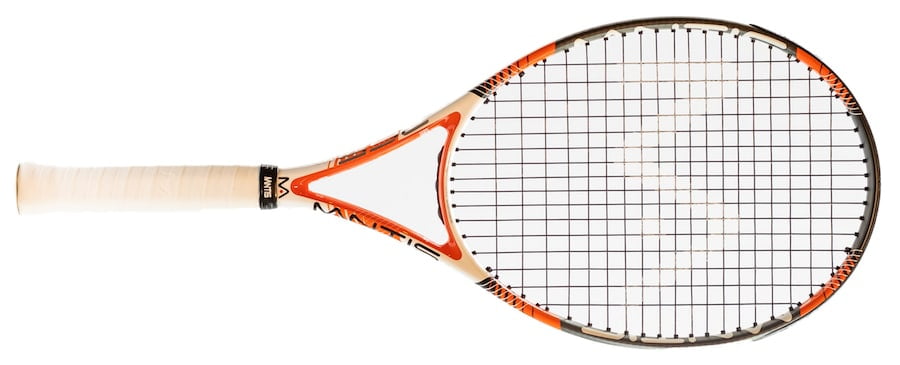 Beginners racket review & play test: Mantis 265 CS III
As a new or recent player to the beautiful game of tennis, choosing your racket can be daunting, which is why tennishead is here to guide you through the process. We've taken the time to research, test, analyse and review all the best rackets on the market for players looking to buy their first or second racket including the Mantis 265 CS III
In recent years the increase in innovation and the introduction of advanced new technologies has impacted massively on the tennis rackets we use. Gone are the days when you just choose the racket your favourite player was sporting as now you will find there is a whole range of rackets to suit every single type of player from all the manufacturers.
We've written this handy guide on how to choose your racket which might be worth a quick read before you get stuck into the detail of the individual racket reviews we provide.
Here, we bring you the Mantis 265 CS III and you can buy this racket now with a 5% tennishead discount and free premium string upgrade from our chosen tennis specialist retail partner AllThingsTennis.co.uk
Background to the Mantis 265 CS III
The MANTIS 265 Competition Series (CS) III offers an excellent balance of power and control and is the perfect racket for a junior player of around 10-14 years old, or an adult club player with a slow-medium paced swing, who also likes a lightweight and easily manoeuvrable frame.
During the product development stage of this third generation model we carefully focussed on the weight, balance and swingweight to produce an ideally balanced frame that doesn't feel too head-heavy when compared to a number of similar specification rackets. Additionally the new 265 CS III is exceptionally soft, providing a forgiving feel on contact with the ball.
As per all other rackets in the range, the MANTIS 265 CS III now facilitates the use of advanced stringing techniques by highlighting the larger string tie-off holes.
A new bold fluoro orange colour combined with a classic matt white finish makes the racket stand out from the crowd.
The play test
Mantis are a very understated and reliable brand of rackets, delivering once again with this frame. It is particularly head-heavy, which was an advantage in net play.
This is definitely a front-runner for a beginner who, very much like the Yonex Ezone Feel, is suitable for players focusing on comfort during a shot.
"If I put too much force I struggled with aim, but as long I was steady and I wasn't hitting too hard, I felt I had decent control over the trajectory of the ball," our beginners tester Gill said.
"It felt pretty balanced throughout my shots. I also liked the colour coding of this one."
Taking this into consideration, we felt the Mantis was the best value choice in our beginner's range.
For this reasonable price you can learn the basics of tennis without too much pressure from knowing you've spent a lot of cash on a racket higher up the market.
Technical specifications
If you are someone that has never bought a racket before or are quite new to tennis then all the specifications below might seem meaningless, but they aren't! So we've written a guide to tennis racket specifications that will help explain exactly what each different term means and how it will impact your racket. Click here to read it.
Mantis 265 CS III
SRP ⇒ £120
Head size ⇒ 100sq inches (Large head)
Weight ⇒ 265g (Light weight)
String pattern ⇒ 16×19 (Average string pattern)
Balance ⇒ 335mm (Central balance)
Beam ⇒ 22.5mm/ 25mm/ 22mm
Length ⇒ 27in (Average length)
Recommended string tension ⇒ 50-60lbs
Buy this racket now with a 5% tennishead discount and free premium string upgrade from our chosen tennis specialist retail partner AllThingsTennis.co.uk
For more beginners racket reviews and play tests of the all the best rackets on the market try our Gear section
Now watch what happened when the tennishead beginner tested 8 of the best new beginner rackets on the market, including the Head Instinct Lite, in our 2019 testing day (Big thanks to Jack from JackMansfieldVideography.com)
Look ahead to the rest of 2019 with our guides to every tournament on the ATP Tour and the WTA Tour. If you can't visit the tournaments you love then do the next best thing and read our guide on how to watch all the ATP Tour matches on television in 2019. To read more amazing articles like this you can explore Tennishead magazine here or you can subscribe for free to our email newsletter here