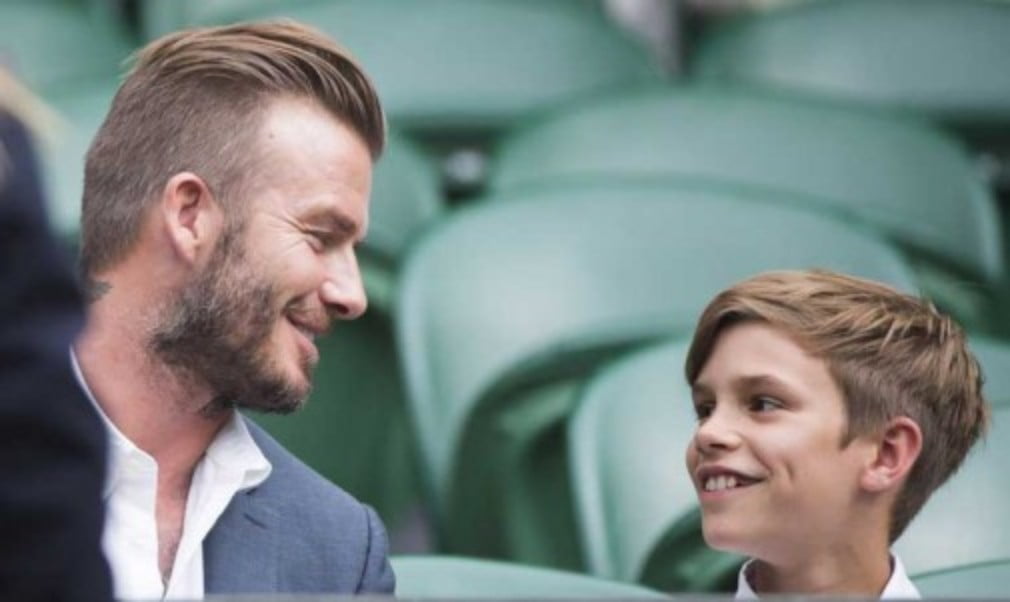 Beckham's son Romeo practises with Andy Murray
Originally published on 13/06/16 00:00
Beckham told the Aegon Championships podcast how he found himself behind the scenes, and how much tennis son Romeo is now playing. You will find more interviews throughout the week on the Aegon Championships podcast.
What are you doing down here today and did you know that you were going to come across Andy Murray?
I knew Andy was down here because I spoke to him earlier this morning. But we were just coming down to see if there was any practice going on before the tournament starts. It was something that was a big plus for Romeo.
Is tennis the sport for Romeo, ahead of football?
At the moment it is. He retired at the old age of 13 from football and now he's happy hitting a ball around on the tennis court, he plays four or five times a week and he enjoys himself. It's a great sport and a big privilege for him to be here today, especially with Andy.
You even got to see the press room. We saw you sneak through with Romeo. At the end Kyle Edmund was like, 'did that actually really happen?'
I know, well I thought that was the only way through, I didn't realise there was a back way! I did apologise, I was trying to be as quiet as possible. But Romeo's a member here now. So we came down to see a few of the guys practising and obviously it's great for him. He was playing against me this morning, so it's tougher now against Andy!
People have always talked about you being a role model. It must be great for Romeo, he likes tennis, to have someone like Andy Murray as a role model?
Without a doubt. When you look at role models, you want them to be passionate about the sport, passionate about what they do, to play hard all the time, and Andy's one of those players. It's great for any young kid to have great role models in sport and Andy's definitely one of those for many kids around the world.
You've set the bar high now. He's practised with Andy Murray, you're going to have to up your game David!
I was going to play with him tomorrow morning, but I don't think I will now!