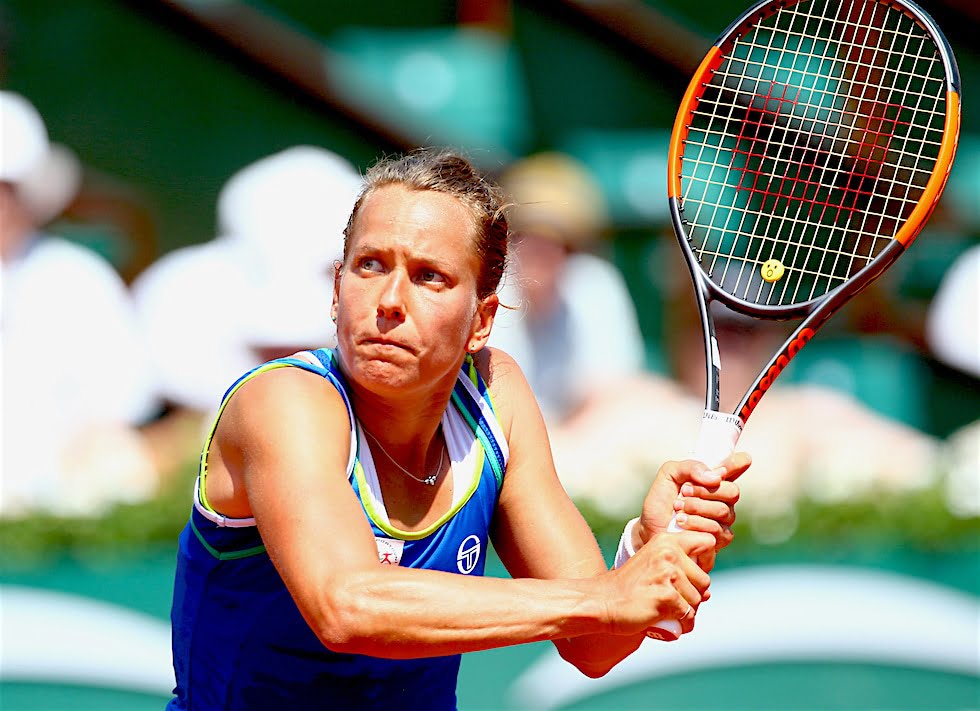 Barbara Strycova: The Five Minute Interview
Interview with Paul Newman
What is your favourite sport other than tennis?
"I like basketball. I like figure skating. I like to watch swimming. But if I had to pick one it would be athletics."
If you hadn't been a tennis player, what other job would you have done?
"I would have tried to be an ice figure skater. I also love drinking coffee, so maybe I could have had a coffee shop."
Where is your favourite holiday destination?
"The Austrian mountains. I snowboard. I'm pretty good, so that would maybe be one of the best holidays for me. I also like going to the beach, but I don't really like to just lay there. For me it's a little boring. I love to do something."
What's your favourite tournament?
"It's Melbourne, the Australian Open. I like the people there and I like the environment. It feels like a place where I could live and I like that. I like being somewhere that feels like home.
What was the best win of your career?
"I think it was beating Caroline Wozniacki in the fourth round at Wimbledon [6-2, 7-5 in 2014]. That put me into the quarters at Wimbledon, so it was a huge win for me."
So was that bigger than beating Li Na, the world No 2, in the previous round? Wozniacki was world No 16 at the time.
"Yes, because reaching the Wimbledon quarters was something special."
If you could go back and play one match again, which would it be?
"I think it would be the fourth round of the Australian Open against Serena Williams [who won 7-5, 6-4 in 2017]. I didn't play my best. I was really nervous. I was just not myself."
Are you a better singles player or doubles player?
"I don't know. I think I am a very good singles player, but I love doubles. I enjoy playing with a partner. I really like to play doubles, but I think I am a better singles player."
Why does the Czech Republic produce so many great tennis players?
"I get asked this question a lot. What I answer is that we have pretty good coaches. We also have a good structure, so that young kids can go to good coaches. I think it's very important for young players that they are taught good technique, right from a young age."
Who are your best friends on the tour?
"To be honest I don't really have best friends in tennis. My best friends are outside of tennis. But within tennis Lucie Safarova and Magdalena Rybarikova are both very good friends. These are the players I go to have dinner with, or I go to have a coffee with."
Do you remember your first victory at a Grand Slam tournament?
"Yes. I beat Arantxa Parra Santonja [7-5, 6-1] at the Australian Open [in 2004] after qualifying there for the first time."
What do you remember of your first match at Wimbledon? You lost 6-4, 5-7, 11-9 to Tatiana Perebiynis in 2003.
"It wasn't a very pretty match. I think we played on Court 15. After losing 11-9 in the third I wasn't very happy, but I had put everything into the match."
Your home city in the Czech Republic is Pilsen, which is famous for its beer. Is Pilsen beer the best in the world?
"Yes, it is the best – and I'm not a beer person, I'm more a wine person. But when you taste beer from somewhere else you realise that Pilsen is the best.
Do people in Pilsen drink beer from a very young age? When did you first try it?
"They do. They drink beer like water. I think I was maybe 14 when I first tried it."
Did you like it immediately?
"One glass is enough for me. It's too bitter. I sometimes have a small one, just one glass."
---
Barbora Strycova fact file
Age: 32
Born: Pilsen, Czech Republic
Lives: Dubai
Height: 5ft 5in
Coach: David Kotyza
Turned professional: 2003
Singles titles: 2
Doubles titles: 21
First titles: Doubles: Warsaw 2005 (with Tatiana Perebiynis). Singles: Quebec 2011
Best Grand Slam singles performance: Wimbledon quarter-finals 2014
Career-high singles ranking: No 16 (January 2017)
Career-high doubles ranking: No 7 (May 2018)
To read more amazing articles like this CLICK HERE to get a copy of Tennishead magazine