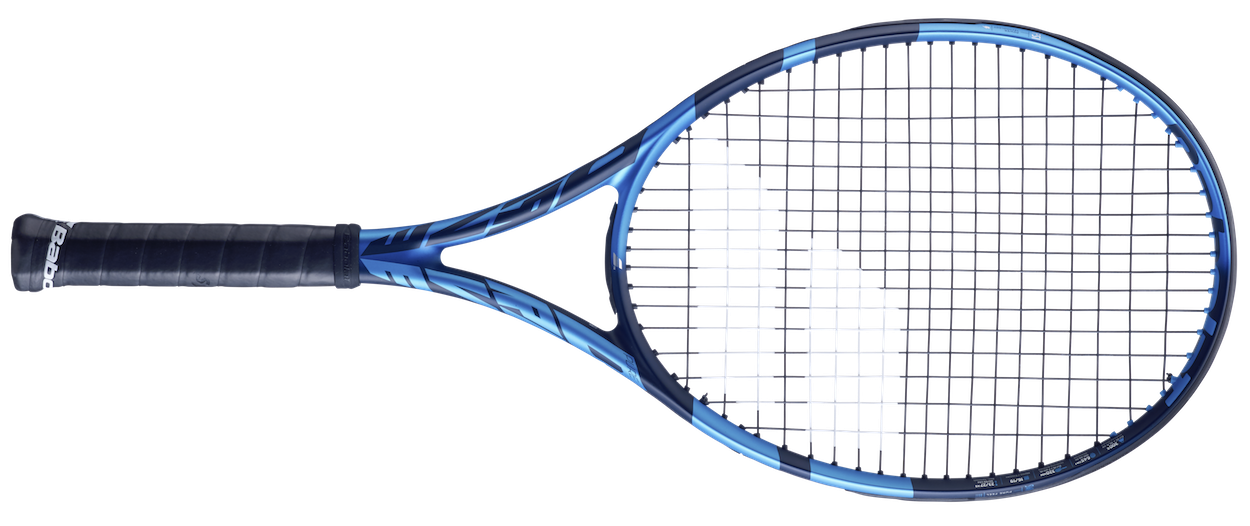 Babolat Pure Drive 2021 tennis racket review
Some tennis rackets don't need an introduction as their reputation precedes them and it's fair to say that the Babolat Pure Drive is one of those, hence why were honoured to be the first to get our hands on this 2021 version for an exhaustive Tennishead tennis racket play test and review.
The background
Babolat aren't yet the biggest racket brand in the world but they have some of the most loyal followers and their range of rackets, strings and big name players puts them in the top league of brands.
Of their range, even though it's their biggest seller the Pure Drive isn't as high profile as the Pure Aero but that's mainly because of a certain Spanish clay court expert! However the Pure Drive does have an incredibly dedicated following of modern, power hungry players.
---
BUY THE BABOLAT PURE DRIVE 2021 WITH OUR EXCLUSIVE DISCOUNT
We've teamed up with AllThingsTennis.co.uk so you can buy the new Babolat Pure Drive with a 5% discount + free premium string upgrade
---
The Technology
Unfortunately most tennis brands do have a tendency to over-complicate their explanations of new technology that they've apparently invented just for their rackets, but that's Tennishead's job to cut through the jargon and explain exactly what they've done.
A good example is what Babolat say about the new HTR System in the Pure Drive, which evidently has "a new lay-up composition for an improved High Torsion Rigidity to yield unseen explosivity, especially on powerful shots played at high intensity." In simple terms… They've changed the materials in the racket to make it stiffer and therefore more powerful.
Babolat also claim that their new SWX Pure Feel system helps with reducing vibration and creates better feel. That's all well and good but would these technological advances actually deliver a better playing experience?
Watch as our experts try out the Babolat Pure Drive
The play test
Our testing session coincided with the start of Roland Garros 2020 where big names like Garbine Muguruza and Fabio Fognini would be using their Pure Drive's. Thanks to the ever unreliable British weather, we headed to our local indoor hard courts to put this exciting racket through it's paces.
So what would our three expert play testers think and would they be tempted to throw their current racket into the bin and move to this latest version of the Babolat Pure Drive?
Our Tennishead play testers for the Babolat Pure Drive review:
Sue: A 'baseline grinder' who's been playing for 30 years and usually hits with a Mantis 300.
Liam: An 'energetic all-court player' who's been playing tennis for 10 years and uses the Yonex EZONE 98.
Austin: Who 'likes to win the point at the net', has been playing for 15 years and who's current racket is an older version of the Babolat Pure Drive.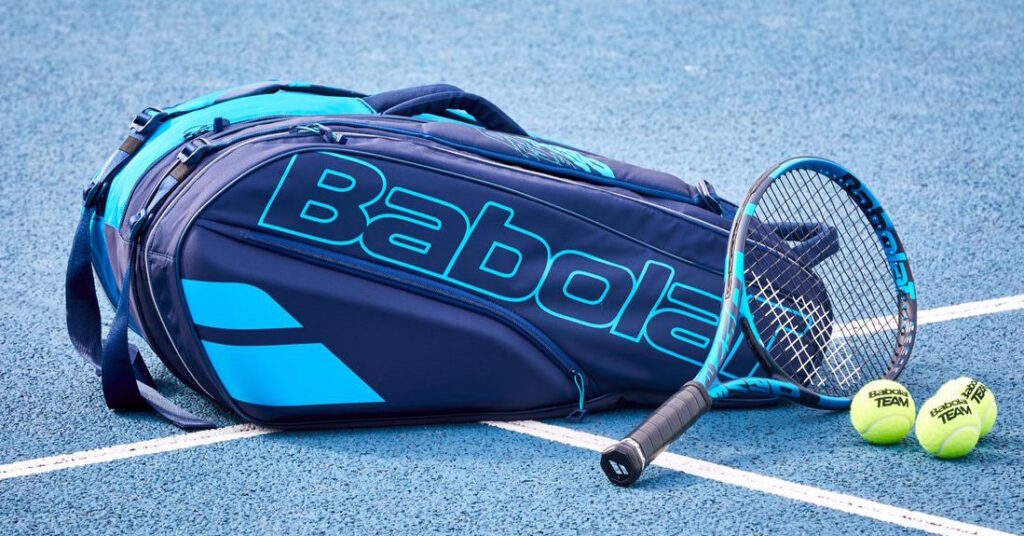 Liam was the first to try this racket out at the baseline and he immediately confirmed that "as always with the Pure Drive there was really effortless power and I didn't have to swing too much to create the power" however he did note that "when I was stretched or off balance the power was sometimes too much causing me to hit the ball long". Sue found the Pure Drive was "very smooth through the air allowing me to put the spin on the ball that I wanted thus enabling me to hit the right depth of shot." When more stretched for her groundstrokes she felt "it would still work for me if I needed it to." Austin, who currently uses and older model of the Pure Drive, really enjoyed this racket from the back court finding it "extremely easy to create pace and spin from all areas of the court. If I was pushed wide I felt I had great control and if I had a short ball I could attack it. Really nice."
Sue wasn't overwhelmed by the Pure Drive at the net saying "it didn't feel massively sharp, it just felt normal. My smashes were fine but only once I got my technique spot on. There wasn't much forgiveness so you had to do it right". Austin was more positive pointing at that it was "really easy to hit my spots on the volley and I felt in complete control. The same feeling on the smash where I felt like I could go for it and I had complete trust in the racket." Liam commented that the Pure Drive felt "really solid on my volleys with the ball coming off the strings really nicely and on the smashes the racket gave me loads of easy power."
Our testers then headed back to the baseline to try their serves with Austin feeling "it felt really nice especially the flat serve where it was easy to hit big and flat but I did find it a little more difficult to generate spin on my topspin serve." Liam was glowing in his praise for the Pure Drive on serves where he found the ball was "coming off really massive and the racket made it so easy." Sue said serving for her was similar to smashing where "you really had to get up to the ball and be technically correct. If you were a little lax it didn't offer you much help."
Does the efficient power of the Babolat Pure Drive benefit your style of play?
Liam is an 'energetic all-court player' and felt this racket would be better suited for someone who hits with more power and less spin than he does.
Austin is a player who likes to 'finish the point at the net' and he said this racket would "really suit my style of play because I could hit a big approach shot and then easily move my opponent around when I'm at the net. I've always felt the Pure Drive has a good sweet spot and even if I hit a slight shank it would still go where I wanted it".
Sue professes to being a 'baseline grinder' and said this racket definitely suits her style of play as it was "really comfortable on my arm" and "really smooth when hitting the ball with fantastic vibration control" and she would definitely consider buying one. This backs up Babolat's claim to have improved the vibration control with their new SWX Pure Feel system.
Sue felt the "colours are great and I like the matt finish with the light and dark blue looking nice together". Austin felt that Babolat "could have added more colour but the performance does the talking with this racket". Liam felt "it looks really nice and definitely better than the older Pure Drive version".
The final question was on the price. Did our testers feel that $255/£200 is a fair price for the Babolat Pure Drive 2021?
Sue – "It's a quality racket worth that price"
Austin – "That price is fair and I'm might look to upgrade to this myself"
Liam – "Yes that's a fair price because if you want a power racket this is one to have your eyes on".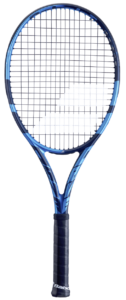 The specs
For a detailed explanation of racket measurement criteria have a read of our guide.
Babolat Pure Drive 2021
Head size = 100 sq in
Weight = 300g
String pattern = 16/19
In conclusion
Unanimous feedback from our testers tells us that Babolat haven't strayed from their tried and tested formula for this racket of power! But the 2021 version does seem to deliver the necessary control element as well which is frankly pretty crucial for most amateur players. There's little point in hitting big if the ball flies out the back, and we are confident in saying that this racket will allow most players to control the extreme power.
Interestingly though was that two of our testers did find that when they were out of position or hadn't hit the perfect shot then this racket didn't give them much help, so that is something to watch out for when considering a new Babolat Pure Drive. Maybe there is a hint here that the power needs to be in the hands of a player with the skill level to control it.
Buy this racket
As always, we've teamed up with tennis specialists AlThingsTennis.co.uk to offer you the ideal route to purchase this racket. They give you advice as well as provide a free premium restring and an exclusive 5% Tennishead discount when using coupon code: TENNISHEAD5
You can also find where to buy the racket at Babolat.com