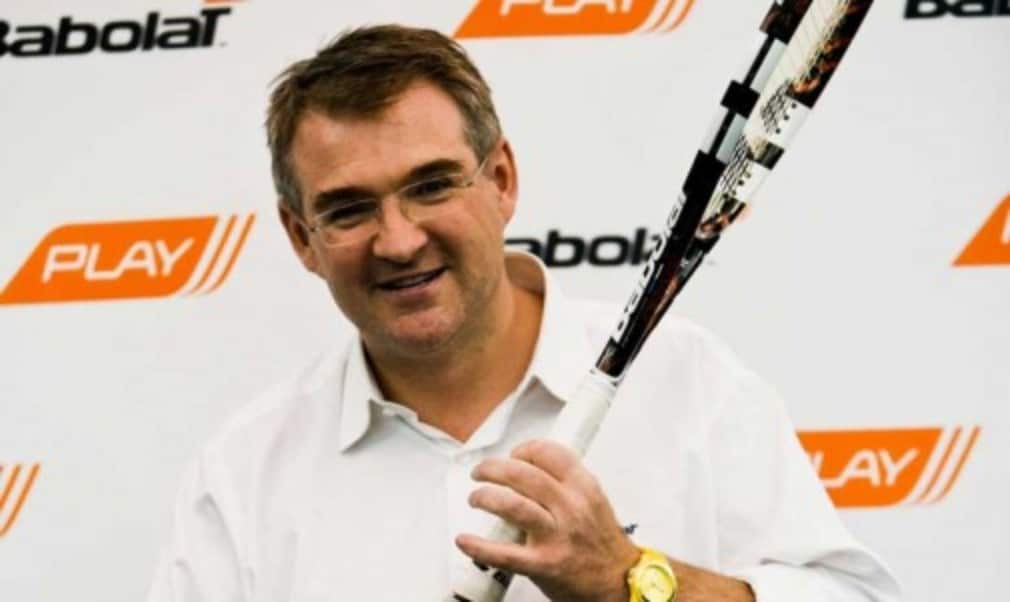 Babolat Play hits the UK
Originally published on 15/05/14
Having spent the best part of ten years developing the smart frame, the team at Babolat believes that a racket that provides feedback and analysis on your game is the future of the sport.
And following the introduction of Rule 31 by the International Tennis Federation in January, permitting the use of Player Analysis Technology during competition, the likes of Li Na and Fabio Fognini could employ the rackets in time for this year's Championships.
"The pros are going to play with it soon," says Eric Babolat, owner and CEO of the French brand. "The players are playing with their regular rackets at the moment because the they started pre-season training in November and the racket was not approved [by the ITF] at this time to prepare the racket for them to go on tour.
"We have been working with them since then, and so we will soon have pro players playing with it; to have data in the system from tournaments will be very interesting."
Li, Fognini, Jerzy Janowicz and Julien Benneteau could be among the first players to utilise the smart technology by switching to the Pure Drive Play, which is the same weight and balance as a standard Pure Drive, although they will have it customised to suit their individual needs.
"We have put the Play technology in our Pure Drive, which is one of our bestselling rackets and our most versatile," says Babolat. "It is very powerful, very light and very manoeuvrable so it is good for a lot of players. When you compare the regular Pure Drive and the Pure Drive Play it is the same weight, same balance so you don't feel any difference when you are playing."
"Play is for all tennis lovers," he continued. "We have developed it with with pros and club players and they are all like kids when they get their data. Even pros that have their own coaches they don't have information like that."
While initially only launching with the Pure Drive Play, Babolat intends to roll the technology out into the rest of their rackets including Rafael Nadal's AeroPro Drive, Jo-Wilfried Tsonga's Pure Strike and Sam Stosur's Pure Storm.
"Today we bring this technology in one model, the Pure Drive, but we want to extend it to the other rackets, and I think in the coming years connected tennis will be on a wider scale," says Babolat.
Nadal has trialled the Play and his statistics are available to compare with your own once you have uploaded your data to a smartphone, tablet or computer.
"It is great because you have the chance to know much more about your tennis, much more about the way you hit the ball, the way that you want to improve," Nadal said. "It's great because you can have fun with that, you can compare your shots with friends and another players. It is very interesting for the professionals but especially for people who are learning to play tennis – it will be a great help in my opinion."
It may look and feel like the normal Pure Drive, but the Play features a sensor in the handle that tracks every aspect of your game, logging details of all your strokes. The data can be uploaded to a smartphone, tablet or computer, where you can see a detailed analysis of your game. Not only can it tell you how many serves, forehands and smashes you hit, it will analyse your power, technique and endurance.
"For the first time ever, you have to switch a racket on to play tennis," says Babolat. "All you have to do after is just play tennis and this racket will give a lot of feedback, lots of information about what is happening at ball impact."
Your results can be stored and compared over time to monitor progress and see in quantitative terms if your backhand is improving, and even compare your data with Nadal and other Babolat professionals.
"This idea started in our minds ten years ago," said Babolat. "It came from our engineers in our labs. It is difficult to qualify a tennis product because it is all about feel.
"Ten years ago we needed to have data and not just feel. But at the time, the equipment that we would have needed to equip a player he would have had to worn a backpack with a big battery, a lot of cables that would not allow him to play tennis properly.
"I sincerely believe that within ten years all tennis rackets will be connected."
The Babolat Pure Drive Play is on sale from May 19. RRP £349.99. List of retailers on www.babolat.com. For more information visit www.connectedtennis.com