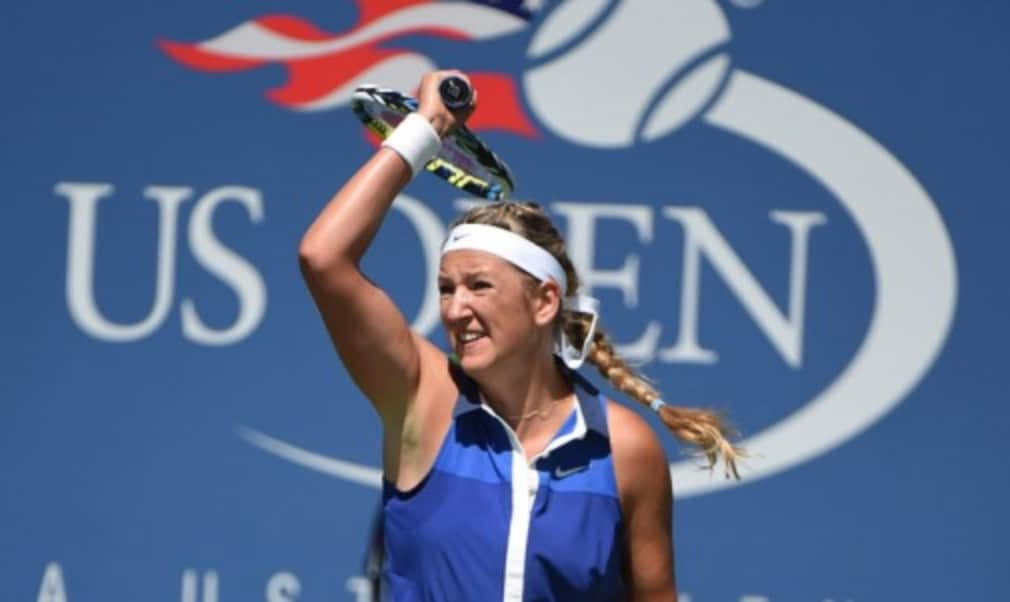 Azarenka notches up 100th Grand Slam win
Originally published on 31/08/14
"I think it's a great achievement," she said. "It's just a number, really. I want to make it to 200 and maybe more."
The Belarusian defeated Elena Vesnina 6-1 6-1 on Saturday and has cruised through the early stages of the US Open, despite struggling for form this season. Having started the year as world No.2, Azarenka has slipped down the rankings after missing much of the season with a foot injury. Including a premature comeback at Indian Wells in March, Azarenka is 3-5 and has slipped to No.17 in the world.
A two-time runner-up at Flushing Meadows, Azarenka could slip further down the rankings if she does not match the 1400 points she accumulated for reaching the final in 2013, when she lost to Serena Williams for a second successive year. However, during the first week in New York, she looks to have found the kind of form which has eluded her for so much of the season. In the first round she defeated Japan's Misaki Doi in three sets; in the second she defeated American Christina McHale in straight sets and against Vesnina on Saturday, with the loss of only two games, she showed why she is a real contender for the title here.
She may have been expecting a tougher match if her next opponent had been reigning Wimbledon champion Petra Kvitova, but the Czech suffered defeat at the hands of Aleksandra Krunic and so it is the Serbian qualifier who awaits Azarenka in the last 16.
"I don't know about her much," she said of her fourth-round opponent, "I have seen just really briefly a couple of points. But, you know, she obviously is playing great tennis and really inspired here, you know, winning so many matches in a row and upsetting such a great player. So it's going to be tough. I think it's always tricky when you don't know your opponent, but I just want to focus on my game and try to get prepared as best as possible and, again, have fun."
With a reputation for having fun in press conferences she went on in her unique humorous way to talk about her competitive nature. "I think I'm very competitive off the court, too. If you're going to go play basketball with me, I'm going to want to rip your heart out," she said. "I'm going to want to score on you and I am going to want to dunk on you, whatever."
Her results on court demonstrate her ability to put this into action, as she says, "I want to win, and I know what I've got to do to put myself in the best situation to win."
The bottom half of the draw has opened up with the departure of seeded players including Ana Ivanovic, Sam Stosur, Dominika Cibulkova, Madison Keys and now Kvitova. But the 6'1 right-hander doesn't see things in this way; as the No.16 seed it is the lowest Azarenka has been seeded since Wimbledon in 2008.
"No matter what seed you are, who you play, you've still got to go out there and win the matches. These are statistics," she said. "I think the best players, they really play better under pressure".
On her form today the 25-year-old, who has been on tour for nine years has yet to be really tested here. Azarenka heads into the second week with, at least on paper, a very winnable 101st Grand Slam match.
This story is bought to you by Wilson, Official Ball of the US Open since 1979