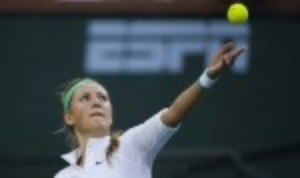 Azarenka eyes return to top
Originally published on 18/03/16 00:00
Fresh from winning her first Grand Slam title at the 2012 Australian Open, the newly crowned world No.1 extended her unbeaten run to 23 matches to lift the title in Indian Wells, beating Maria Sharapova in the final.
She defended her Australian Open crown the following year, but a series of injuries forced her to miss much of the 2014 season, dropping to No.50 in the world rankings last February.
Now back up to No.15, Azarenka, who won her first title in three years at the Brisbane International in January, believes she is not yet close to her best.
"Oh, I don't think I am close to fulfilling my potential," said Azarenka, who dished out a 6-0 6-0 win over Magdalena Rybarikova in the quarter-finals. "Just to see what I can do on practice court and physically what I can improve, I'm far from that. That's what I'm looking forward to improve."
Azarenka would climb back into the Top 10 with victory at Indian Wells, but while the No.1 ranking remains a goal, she insists it is not her No.1 priority.
"I'm in a different stage of my career," she said. "You know, I think getting to No.1 of course it's a goal. My main goal is to win Grand Slams. That's that I want really bad and that's what I'm working towards. I always think that ranking is a bonus that comes with it. Once you have results, you win tournaments, it comes automatically.
"And at first it was something that you want to get since you were a kid. It's a big dream. And once you achieve it, sometimes it brings the level of motivation down. Right now my level of motivation is different. I'm not that kid with a big dream of becoming No.1. I've been there."