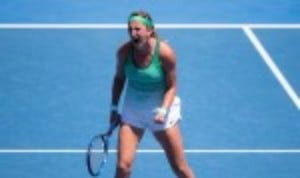 Azarenka Š—"hungryŠ— for trophy
Originally published on 25/01/16 00:00
Strycova, who was defeated 6-2 6-4 by Victoria Azarenka in the fourth round of the Australian Open on Monday, believes the former world No.1 is "very hungry, and I think she is the one who can think about the trophy."
Strycova is pretty well placed to comment, having played Azarenka on four previous occasions, including the past two years at the Australian Open in 2014 and 2015. Even though Azarenka won all three of their matches in Melbourne in straight sets, Strycova can see the improvements that the 26-year-old has made, having struggled with injuries since winning the 2013 Australian Open.
"Last year I felt like she's a little bit on and off," Strycova said, "but this year you can see that she was working hard on her mental [game], I think, and also on her physical."
Azarenka, who was the champion in 2012 and 2013, has found her form in this tournament. The Belarusian had dropped only five games in her opening three matches, and although Strycova more than doubled that total by taking six games, Azarenka has been in ominous form.
"I think I played pretty well there," she said. "There are things I could have done better I think always. That's the perfectionist in me. But overall, pretty solid. You have to really go out there and take it from [Strycova], because she's not going to give you anything, mistakes. You have to really focus and take control."
Talking after the match Azarenka, who interrupted her on court interview to find out if American football team the Broncos had won their game, explained why she is so interested in NFL. "Once I start to understand American football more," said Azarenka, who has been celebrating her victories with a 'dab', made famous by Carolina Panthers quarterback. "It showed so much how strategic the game is and that's fascinated me."
Now standing in Azarenka's path is Angelique Kerber, who won an all-German battle against Annika Beck 6-4 6-0. Azarenka has a 6-0 record against Kerber, her most recent victory coming in the final of the tournament in Brisbane earlier this month. What will Kerber, who had to save a match point against Misaki Doi in the first round, do to finally win a match against the in-form Azarenka?
"I think I must serve for sure better, because she's returning very well," Kerber said. "Be more aggressive. Playing aggressive. Moving good and actually playing my game like I'm playing in practice and just focusing more on me and not on her game."
"I always look forward to playing [Kerber]," said Azarenka. She always gives me tough matches. I prepare myself for a very tough match because she's very solid, very consistent and an amazing fighter. I have to play my best game to beat her, for sure.
"Every match is going to be a different story. The result of Brisbane or whatever in the past, it doesn't really matter to me. I need to focus myself for a tough match, the quarter-finals of a Grand Slam. It's important for everybody."