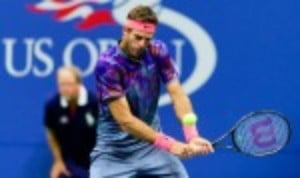 Awards for del Potro & Kvitova
Originally published on 09/09/17 00:00
The Awards are presented to the professional tennis players who best demonstrate excellence in sportsmanship throughout the US Open series and the US Open.
2009 champion, del Potro reached the singles semi-finals this year after defeating five-time champion Roger Federer in the last eight. Kvitova advanced to the women's quarter-finals after missing much of the first half of the season while recovering from hand injuries suffered during a knife attack in the December.
"Both Juan Martin and Petra have not only captivated us at this year's US Open, but shown incredible class in doing so," said USTA Chairman, CEO and President Katrina Adams.
"With Petra's incredible comeback story and Juan Martin's ability to capture the New York crowd, we couldn't be happier to honour these great competitors with our US Open Sportsmanship Awards."
The USTA started a Sportsmanship Committee in 2011. Its aim is to 'educate and inspire youngsters and their parents to develop and exhibit a high degree of sportsmanship and an attitude of fair play and mutual respect on and off the tennis court. Underlying the charge is the ethical imperative that fairness is more important than winning.'
Eligibility requirements for winners include participating in at least two Series tournaments, as well as the 2017 US Open. Each US Open Sportsmanship Award winner receives a trophy and a $5,000 donation to the charity of his or her choice.
Past winners include Angelique Kerber and Kei Nishikori (2016), Venus Williams and Kevin Anderson (2015), Roger Federer and Caroline Wozniacki (2014), Li Na and David Ferrer (2013) and Bob and Mike Bryan and Samantha Stosur (2012).
This story is brought to you by Wilson, the global leader in performance tennis