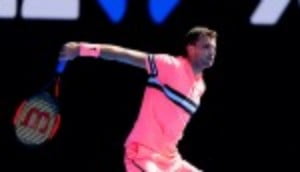 Australian Open: Day 1
Originally published on 15/01/18 00:00
1) Kyle Edmund beats No. 11 Seed
In 3 hours 59 minutes, Kyle Edmund notched a five set victory against 11th seed Kevin Anderson 67 (4) 63 36 63 64 on Court 3. Edmund's biggest win of his career sees him advance to the second round where he will play Denis Istomin.
"I took chances basically, and they paid off.' Edmund said. "Really calculated risks, I'd say. It was good. Especially in the fifth set, going down a break, then breaking him twice in a set to win it is pleasing.
2) Venus Williams goes home
Belinda Bencic defeated Venus Williams for the first time in five attempts
"It's really tough to play her," said Bencic. "You really have to be on the limit of your game. You have to come out with everything you have. I tried to do that today."
Venus said: "I think she played well. I don't think I played a bad match. She just played above and beyond. I just have to give her credit for that."
3) Sloane Stephens
The 2017 US Open Champion was defeated by China's Zhang Shuai
"Even though I lost, I'm not too sad" she said. "Oh, my God, no. Everything is good. Relax, everybody. It will be okay. Don't worry."
4) Stamp it out
Jelena Ostapenko came through her first round match against Francesca Schaivone and was asked about the postage stamp that was made in her honour after she won the French Open last year.
"Not many athletes in Latvia get a stamp," she said. "When they told me, I was very, very happy, because I think it's a big thing if they make a stamp. Especially they made 55,000 stamps and they were sold out on the first day."
5) Pretty in Pink
Many of the manufacturers launched their Australian Open kits today. Pink seems to be the colour of the season for the men. Nike in particular have decked out their players in bright pink as worn by Kyle Edmund and Denis Shapovalov. World No 3 Grigor Dimitrov had his own outfit, which had stripes across the chest, bearing more then a passing resembling a licorice allsort.
6) Banana Wars
Denis Shapovalov won the battle of the next Gen players, defeating Stefanos Tsitsipas 61 63 76 (5) in just under two hours.
The young Canadian, making his debut at the Australian Open, also won a small battle with a banana, which he found extremely difficult to open mid-match
7) American Head Count
The Americans did not have much to celebrate. Defeated players included Venus Williams, Sloane Stephens, Coco Vandeweghe, Taylor Townsend, Alison Riske, Cici Bellis, Sofia Kenin, and John Isner.
8) David Ferrer
35-year-old David Ferrer, playing in his sixteenth Australian Open against Andrey Rublev lost in five sets in a match that lasted three hours and fifty minutes. This is the first time the Spaniard has not advanced beyond the first round in Melbourne since 2003.
9) Record Attendance
48 419 people attended Monday's day session. This was higher that in 2017. Melbourne Park is currently undergoing a major transformation, including a new media centre, housed in a building called "Tennis HQ".
For more stunning images from the Australian Open, check out our Instagram page.