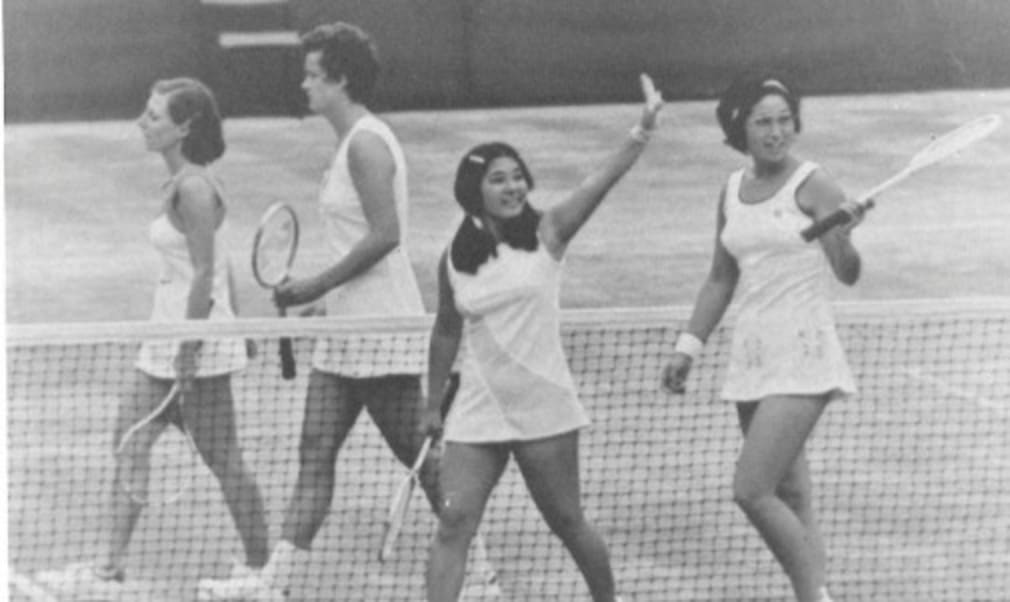 Ann Hayashi-Kiyomura
Originally published on 22/08/15
"
As the top American-ranked junior I played at Wimbledon in 1973. It was fun playing in places like Surbiton and Beckenham, but my clearest memory is of the awful jetlag. The warm-up tournaments were fun; meeting people from all over the world and eating the wonderful English food was quite an adventure.
I did feel some pressure being the US representative at Wimbledon, so I was a little nervous before the final. I'd never seen Martina play before but was told she was a tough one. I remember she didn't take losing very well and cried during the trophy presentation. She expected to win and really wanted that victory.
I was very happy to win, but disappointed not to be presented the trophy in the Royal Box. They were still playing the mixed doubles final on Centre Court and the committee didn't want to wait so we picked up our trophies in the tournament director's office.
Even at 16 I could see then that Martina had the desire, the game and the strength to be a special player. We played many more times in singles and doubles but I was never able to beat her again. She was always one of the nicer players to be around. I taught her how to play backgammon. Martina was a quick learner and she beat me at that too!
In 1975 I won the Wimbledon women's doubles title with Kazuko Sawamatsu. It was quite a tournament for the American players, as Billie Jean King and Arthur Ashe won the singles and an American pair [Vitas Gerulaitis and Sandy Mayer] won the men's doubles as well. I am a third generation Japanese American, so pairing with Kazuko was extra special. Our win but my helped to start a tennis boom in Japan as the country had never had a Wimbledon winner.
Wimbledon will always be the most special major for me; I've been back several times. It was fun to take my kids before they started high school. My husband David Hayashi popped the question at the 1983 Wimbledon Ball and after we got married in 1984 I decided to wind down my career to start a family.
Our son John is a Lieutenant serving in Japan aboard the USS George Washington, and our daughter Jane graduated last year from the University of California, Santa Barbara, and now works for a start-up company. Both our kids were athletic and played tennis. I believe playing sport is good for kids – they need other avenues to help them be healthy and happy outside the classroom.
I've kept in touch with my friend Kazuko, who is now Kazuko Yoshida. I last saw her in Japan in 2013 and we played a little tennis. She and her husband own a wonderful tennis facility in their hometown.
One of my funniest memories of Wimbledon was playing doubles with Sue Barker in 1981. We'd fought back from 2-5 down in the third to 5-5 against Joanne Russell and Virginia Ruzici, and at 9.33pm they asked the umpire to stop the match due to poor light. Suddenly cushions, programmes and other objects rained down onto Centre Court amid jeers. It made the front pages of the papers – an LTA official declared it was "football-hooliganism mentality". We had a good laugh about it and won the match the next day 9-7.
To be able to play at Wimbledon for 13 years was something I cherish. It is amazing to think it all happened so long ago."

This is an extract from 'Where Are They Now?' in tennishead Volume 6 Issue 3. For more great features, in-depth gear reviews and stunning images subscribe to tennishead or download our latest digital magazine on your Apple or Android device. Search tennishead in the App Store or in Google Play. ´è_´è_´è_