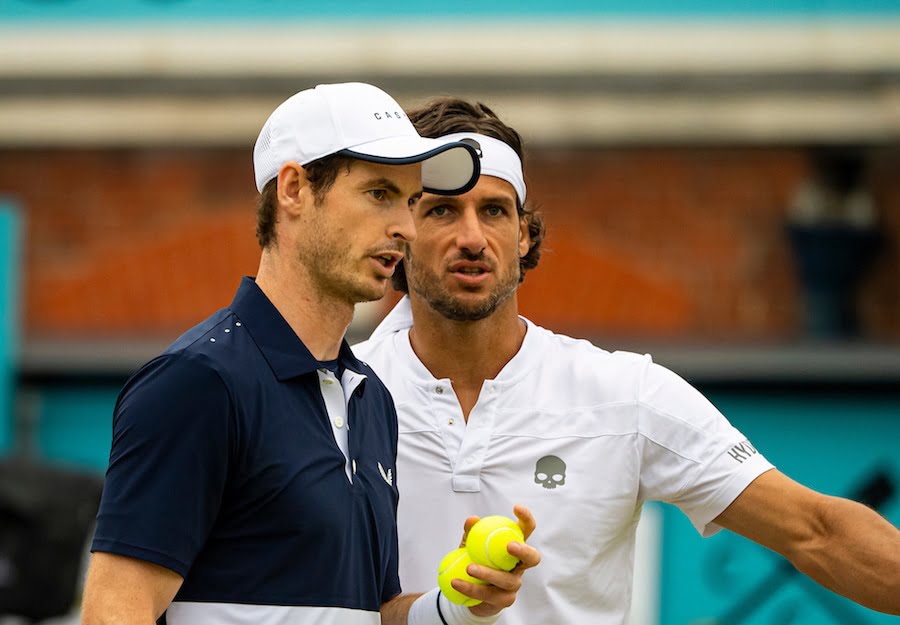 Andy Murray is treading a dangerous line for British tennis according to Indian tennis expert
International success in doubles for British players like Andy Murray is all well and good, but India's experience shows that it can come at the expense of a country's progress in singles. Prajwal Hegde, Tennis Editor of 'The Times of India', outlines the dangers
When Jamie Murray and Dan Evans exchanged contrasting views earlier this year about the respective merits of success in singles and doubles, some Indian observers looked on with a wry smile. And now it's been announced that Andy Murray will play doubles with his brother Jamie at the Citi Open in Washington next week. It is a debate that has raged through Indian tennis for two decades now. Should Indians celebrate their many recent successes in doubles or should they blame them for the country's failure to produce a consistent flow of successful singles players?
For Murray and Evans, the arguments were clear. With eight British men in the second round of the men's doubles at the Australian Open but only one through to the same stage of the singles, Murray told reporters in Melbourne that British tennis "should celebrate more the success of the doubles because that's the thing they've clearly got to be most proud about". Meanwhile Evans told the Daily Mail: "To think we should celebrate this so the kids growing up look up to this as a huge achievement is completely wrong. Kids want to be in the second round of main draw singles events not doubles."
So what lessons can Britain, Jamie Murray and Andy Murray learn from Indian tennis?  Since the world rankings were launched in the early 1970s, only six Indian men (Vijay Amritraj, Ramesh Krishnan, Leander Paes, Somdev Devvarman, Yuki Bhambri and, most recently, Prajnesh Gunneswaran) and one woman (Sania Mirza) have been ranked in the top 100 in singles. As a point of reference, at any given time Spain usually has about 10 men ranked in the top 100.
India, nevertheless, has serious tennis history. Ramanathan Krishnan, a two-time Wimbledon semi-finalist, was ranked No 6 in the amateur world rankings. Amritraj, erudite and elegant on the court, featured alongside Bjorn Borg and Jimmy Connors as the "ABC" of tennis. He was ranked as high as No 16 and was a four-time Grand Slam quarter-finalist. India has made the Davis Cup final three times – most recently in 1987 – and in 1996 Paes won an Olympic bronze medal in singles.
Today, however, India does not figure in the top three Asian nations in men's singles. Among the women, it is even further off the pace.
Yet in the last 20 years India has enjoyed unprecedented success in doubles. It started with the Indian Express, Mahesh Bhupathi and Paes, who won three Grand Slam titles in men's doubles titles from six finals. The friendship frayed all too quickly, however, and Bhupathi and Paes did not just part ways, they ripped Indian tennis into two, dividing the player community.
Still, a trend had been kickstarted and the goalposts had been shifted. If you throw into the mix Bhupathi and Paes' other pairings, Mirza's successes and mixed doubles, Indians can count a total haul of 31 Grand Slam doubles titles. And that is discounting Rohan Bopanna's 2017 French Open mixed doubles title.
With their success Bhupathi-Paes showed Indian tennis that there was another way. In a sport where the accent on the physical was increasingly intimidating for a culture in which professional sport is still somewhat foreign, their triumphs came as light at the end of a dark tunnel. Academics is the peg on which India's population of more than a billion hangs its hopes. Medical and engineering degrees are prized and the only medals that really count are those worn by officers.
All the success Indian sport has enjoyed in the last two decades – notably in cricket and badminton – has come in disciplines where skill still counts, where a match can turn on the flick of a wrist.
Even in a sport like hockey, in which India has won eight Olympic gold medals, the country found itself outpaced when artistry was replaced by athletic ability. Since then, Viswanathan Anand climbed the chess pinnacle, India won an Olympic gold in shooting through Abhinav Bindra and a couple more medals in badminton through Saina Nehwal and then PV Sindhu.
In the global sport of tennis, however, where power and speed were crucial, India lagged behind. Blame it on the lack of a system. All of India's tennis players, from Ramanathan Krishnan down to Yuki Bhambri, are a product of their family's sacrifices, parents who fuelled their children's dreams. Mirza's father drove his daughter around the country from tournament to tournament in a beat-up 90s sedan which sometimes became their home for the week. Devvarman went into collegiate tennis in the United States so that he could play professional tennis  one day.
As for the All India Tennis Association, there is no national training base, no centre of excellence which players could use whenever they needed to. No coaching expertise or funding is made available to juniors or those transitioning, leaving players to plough their own path.
It was inevitable that India's recent success would come in doubles, where skill still rules. India have five players in the top 100 of the men's world doubles rankings: Bopanna, Divij Sharan, 45-year-old Paes, Jeevan Nedeunchezhiyan and Purav Raja.
Mirza's story is a little different. The 32-year-old, the owner of one of the fiercest forehands in the game, powered to No 27 in the world rankings in 2007. She was not the fittest or fastest player, which was largely because she had not been exposed in her youth to the progress made in speed and strength conditioning. Two knee surgeries and another on her right wrist did it for the Hyderabadi in singles and in 2012 she shifted her focus to doubles, where she enjoyed immediate success.
It was in that climate that the legendary Amritraj weighed in against the run of play, lighting a spark. "The focus has to be on singles," Amritraj said time and again. "Nobody starts playing tennis thinking of becoming doubles or mixed doubles specialists. Ask a five-year-old child and he won't say: 'I want to be the best mixed doubles player.' It does not work like that. You want to be the next Roger Federer and the next Rafael Nadal. That's the goal."
Interestingly, in the midst of this stellar success in doubles, the focus seems to have shifted to singles again. Maybe a bunch of kids heard Amritraj or were inspired by 33-year-old Devvarman's steadfastness. The two-time NCAA champion, who climbed to No 62 in the rankings in 2011, when he quit tennis at the age of 30, emphasised: "This is said with no disrespect to doubles, but I have no intention of extending my career playing doubles. I'd rather retire and do something else."
At the end of 2018, India had three men – Gunneswaran, Ramkumar Ramanathan and Bhambri – within touching distance of the top 100. Among the women, Ankita Raina Karman Kaur Thandi and Pranjala Yadlapalli were all inside the top 300.
For the first time ever, India has numbers in singles. For all the great highs the game in the country has enjoyed from time to time, with the odd player blazing a trail, India has never had a wave of players coming through like it has today.
It is because of this situation, the Indian equation where singles was secondary for almost two decades, that both Andy Murray and Jamie Murray's push for British doubles success in comparison to the scarce numbers in singles during the recent tournaments was alarming.
It is a dangerous line to toe, as India has learned. While doubles success is good, it cannot be equated to singles. Only an alley separates the two, but at the same time they are worlds apart and should not be confused.
Look ahead to the rest of 2019 with our guides to every tournament on the ATP Tour and the WTA Tour. If you can't visit the tournaments you love then do the next best thing and read our guide on how to watch all the ATP Tour matches on television in 2019. To read more amazing articles like this you can explore Tennishead magazine here or you can subscribe for free to our email newsletter here