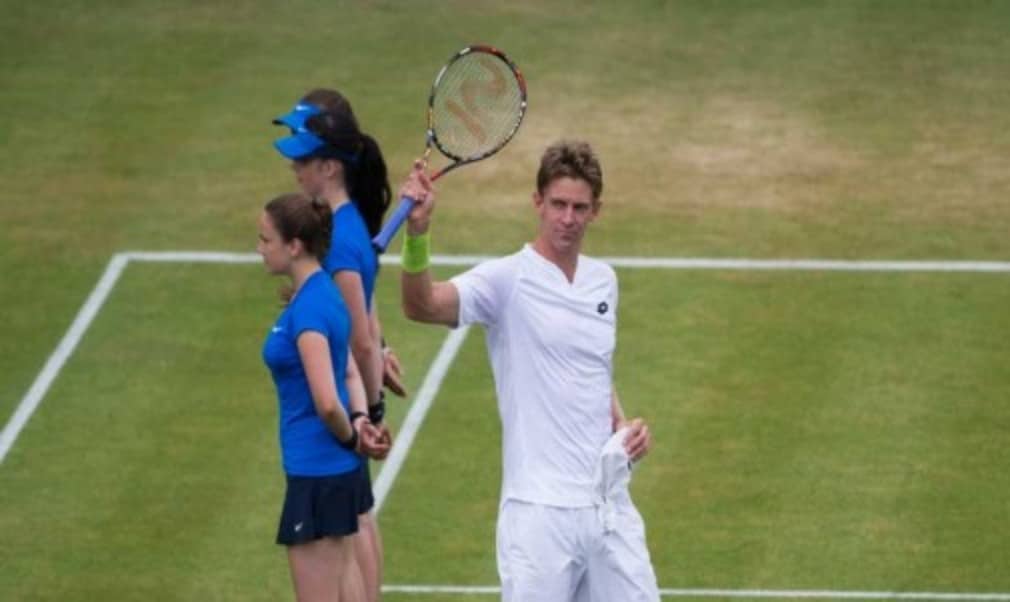 Anderson in final at Queens
Originally published on 20/06/15
If Andy Murray or Viktor Troicki are to claim the Aegon Championships title at Queen's Club on Sunday they will have to do so by winning two matches in a day. The Scot and the Serb will resume their semi-final at 11am after play was called off at 6.45pm on Saturday evening following heavy rain with the score at 3-3 in the opening set.
The winner will go on to face Kevin Anderson in the final – which will start at 2.25pm at the earliest – after the South African beat France's Gilles Simon 6-3 6-7 (6) 6-3 in the day's opening semi-final. Anderson, the world No 17, is through to his first final on grass and his first in an ATP World Tour 500 event. It will be the 29-year-old's 10th tour level final.
When Anderson's match ended at 4.29pm he would have expected within a few hours to know who he would face in the final, but after a week in which South West London has been bathed in sunshine, the rain arrived half an hour into the second semi-final.
Murray and Troicki were at a dramatic moment in their match. With the score at 3-3 and deuce, Troicki having just saved five break points, the Serb fell as he attempted in vain to reach Murray's winning backhand down the line. When he got up Troicki was clutching his left shoulder and sent for the physio. Play was about to resume, with Troicki again on break point, when the rain started falling.
The players left the court, though they returned shortly afterwards during what was to be a very brief respite from the rain. They had just completed their second warm-up, with Troicki apparently striking the ball without any great problems, when the rain returned and they again had to leave the court. Play was officially called off for the day at 6.45pm.
Anderson has been serving well since the start of the tournament and took his tally of aces for the week to 96 with another 34 against Simon.
"I definitely felt I have been serving great this week," he said afterwards. "It's not something that a coach can look at and see any difference from where I was serving two weeks ago. But just the way it feels, even though it feels the same obviously, the rhythm must be quite good now."
It has been a fine week for Anderson. He saved a match point against Lleyton Hewitt in the first round, ended the eight-match unbeaten run of the French Open champion, Stan Wawrinka, in the second round and defeated Guillermo Garcia-Lopez to reach the semi-finals.
Anderson said he had prepared well for the tournament. After Roland Garros he returned to the United States, where he is based. "I think having that extra weekend, spending it at home in Florida, I was able to practise on grass for the week there," he said. "I think that made a bit of a difference."
The world No 17 practised at the golf legend Jack Nicklaus' house. "He's got three courts up in Jupiter," Anderson said. "It's only 30 minutes away from me."
Jay Bosworth, Anderson's coach, was able to facilitate this. "Fortunately Jack was kind enough to let us hit there. I think he has let other pros come out before. I know Ivan Lendl did it with Jay as well."
He added: "To be in the finals feels great, and you know it's going to be a very big match tomorrow."