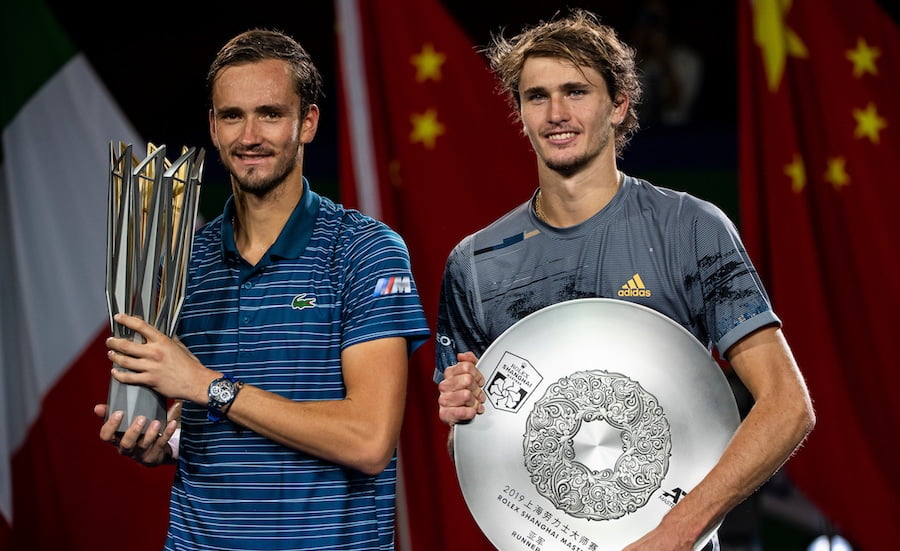 Alexander Zverev explains that "Stefanos (Tsitsipas) and Daniil (Medvedev) have a weird relationship"
Beaten Shanghai Masters 1000 finalist Alexander Zverev admits he has a good relationship with both Stefanos Tsitsipas and Daniil Medvedev
Alexander Zverev was just happy to be back in a Masters 1000 final but when he was asked if he agreed with Stefanos Tsitsipas that Daniil Medvedev was a boring player he couldn't agree and actually felt that Medvedev was the opposite of boring.
Zverev was being interviewed immediately after his loss to Russian star Daniil Medvedev in the final of the Shanghai Masters 1000 when he was asked if he ever found himself getting bored by the Russian's style of play when he answered, "No. I think you're trying to win. But Stefanos and Daniil have a weird relationship a little bit. So I will leave that to them (smiling).
"I have a very good relationship with Daniil since we're kids, and I'm having a good relationship with Stefanos now since the Laver Cup. So whatever they have, they can leave it for themselves. I'm not going to get involved. I'm not going to say anything about it.
"I actually think the opposite. Daniil is somebody that plays a way that we have never seen before. So you can see it both ways.
"Yeah, maybe he doesn't do huge winners or jumping forehands or anything like that, but he plays a style that we have never seen before. You know, that is not boring to me."
Alexander Zverev has held his position above Stefanos Tsitsipas in the world rankings at No.6 in the world after his impressive run to the final of shanghai which included a victory of Roger Federer
To read every issue ever published of the world's best tennis magazine, tennishead, visit our 'Magazine Archive' and you can buy a copy of the latest issue here.To win incredible tennis prizes for free, enter our latest 'Competitions'. For all the breaking tennis news and exclusive player interviews, visit our 'News' section. For the latest racket, ball, shoe and clothing buyers guides plus video play tests, visit our 'Gear' section