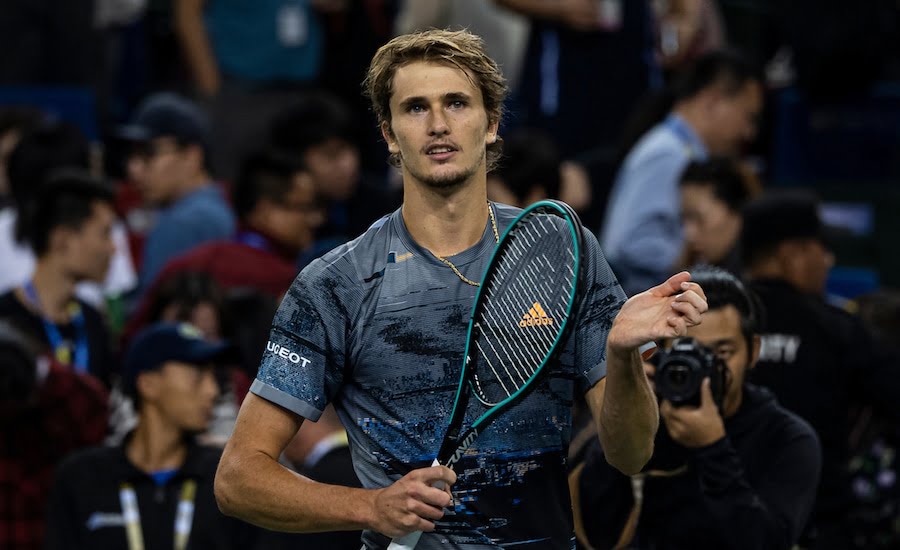 Alexander Zverev exclusive interview: "I always think I can go further"
Alexander Zverev is finally back to the form he showed at the end of 2018. tennishead managed to catch up with the German star earlier this year at the launch of his new racket, the Head Gravity, where we found him in his usual good mood.
When was the first time you played on grass and what were your first impressions?
"The first time was when I was 11 years old in Halle, when my brother was playing in the ATP event there. He was playing in the final of the doubles with Mikhail Youzhny. I was actually practising with him. I absolutely loved it."
You first played in the boys' singles at Wimbledon in 2013. Do you remember much about the occasion?
"Yes. I'd had a great run in previous tournaments. I reached the boys' final at the French Open and I made the final at Roehampton in the tournament before Wimbledon. I was playing really good tennis. My first time at Wimbledon was an unbelievable feeling, playing on the magical grass courts. Unfortunately I got injured in the third round, but it was a great experience."
At Wimbledon 2018 you lost to Ernests Gulbis in the third round, but you had some physical issues, didn't you?
"I'd had an unbelievable clay-court season, but at the French Open I suffered a big hamstring muscle tear. I didn't have any practice or preparation for Wimbledon, so I was actually happy just to get to the third round. Then I had a stomach virus. I was up two sets to one [against Gulbis] but then I had no energy, firstly because I hadn't prepared properly because I hadn't practised, and secondly because of the stomach virus."
Did you think you could have gone much further in 2018 if you had been healthy?
"I always think I can go further than I have. I've lost a few very tough matches in Grand Slams. I lost in five sets to Rafa Nadal when he made the final [at the 2017 Australian Open]. I lost to [Milos] Raonic at Wimbledon in five sets. I've lost a few five-setters. Always when I lose those I think: if I had won that maybe it could have been a special tournament for me."
RELATED: tennishead reviews the brand new Head Gravity as used by Alexander Zverev
You've beaten Roger Federer on grass and you've reached the final at Halle twice, but at Wimbledon you've never beaten a top 50 player. Do you think there's a particular reason for that?
"The second time I played at Wimbledon, in 2016, I lost to [Tomas] Berdych in the third round. He was a top 10 player and he went on to make the semi-finals. I was only 19 years old. The following year I played Raonic, the runner-up from the previous year. I was up two sets to one, but he won in five sets. He was still top eight in the world. Then obviously last year I wasn't feeling too well. For me it's not a big concern. I hope it's only a matter of time until I really go far at Wimbledon. Maybe this year will be completely different."
Ivan Lendl, who was one of your coaches, always pushed himself very hard physically. Did he push you hard too?
"Yes, but I've always pushed myself very hard. He actually had to stop me sometimes. He always said: 'You're probably one of the hardest-working players I've ever worked with.' I don't need somebody extra to push me. I'm very motivated, I'm very determined and I know what it takes. For me it's more about working smart than working hard."
Lendl also had a reputation for telling very bad jokes. Did you experience that?
"Yes, 100 per cent. And he liked to retell them 50 times."
Do you have to be careful with what you eat and drink?
"I'm very careful. For me it's about not losing weight so much as gaining weight. I can lose weight very easily, so I have to have a diet where I eat enough calories, enough protein. I want to keep my weight between 86 and 90 kilos. I can very easily go under that if I play long, tough matches. At the beginning of the year I was sick and lost eight kilos in two weeks. I obviously have to eat healthy. I'm obviously not going to eat fast food, but I have to eat a good amount."
What was your best subject at school?
"Maths."
Were you a good student?
"I was good in the subjects I really liked. I was also good at physics and chemistry. But I couldn't stand art, for example."
If you hadn't been a tennis player what would you have done?
"I would still have been an athlete – maybe a soccer player."
When you finish your tennis career what will you do?
"There's still a long way to go before that. Hopefully I'll be a very good father. I want a family. I'm a family person. I will do sport for fun. I'll play a lot of basketball, a lot of soccer as well."
Alexander Zverev fact file
Age: 22
Born: Hamburg
Lives: Monte Carlo
Height: 6ft 6in
Weight: 14st 2lb
Turned professional: 2013
Biggest titles: Rome Masters 2017, Montreal Masters 2017, Madrid Masters 2018, ATP Finals 2018
Best Grand Slam performance: French Open quarter-finals 2018, 2019
Highest world ranking: No 3
Languages: speaks German, English and Russian
Read our review of the new Head Gravity, as used by Alexander Zverev
To read every issue ever published of the world's best tennis magazine, tennishead, visit our 'Magazine Archive' and you can buy a copy of the latest issue here.To win incredible tennis prizes for free, enter our latest 'Competitions'. For all the breaking tennis news and exclusive player interviews, visit our 'News' section. For the latest racket, ball, shoe and clothing buyers guides plus video play tests, visit our 'Gear' section