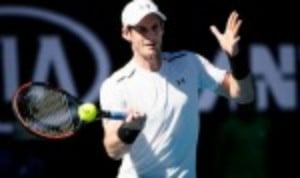 Agut beats Murray in Exhibition
Originally published on 29/12/17 00:00
The Brit, a late replacement for the injured Novak Djokovic, improved as the match progressed however his movement appeared hampered at times – especially when stretched on his forehand side.
The former world No.1, who is still walking with a slight limp, struck the ball with purpose and was more competitive than the scoreline suggests. He made more mistakes than normal, but that was perhaps unsurprising considering the length of his lay-off.
"When you haven't competed for a long time it takes time to get back up to that pace. I started to feel a bit better at the end," said Murray in his on court interview.
"I'll need to keep improving, for sure. It was good fun. I've missed it."
It was unclear earlier this week whether the Brit would make the trip to Queensland for the Brisbane International, but he is set be included in Saturday's draw.
Grigor Dimitrov, Milos Raonic and Nick Kyrgios will all join Murray in Brisbane on the opening week of the 2018 campaign. Rafael Nadal and Kei Nishikori have both pulled out with injury.