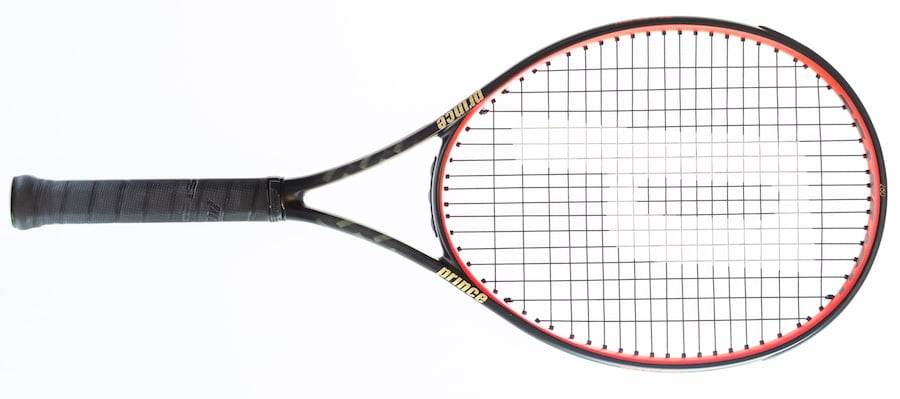 Advanced racket reviews & play test: Prince Tour 100 310
Professional players become very attached to their rackets, it can come down to the look, the weight, how easy they feel they can swing through the air. In fact, many top players stay with the same manufacturer for the duration of their careers. We decided to test and review the latest advanced rackets on the market to see what the difference is between 8 of the top brands on the market including the Prince Tour 100 310
Now, that can trickle down to advanced level players – top club competitors, those in performance squads or juniors eager to break onto the pro circuit. At tennishead we understand this is a serious decision, so we have put together a series of play tests and reviews for the leading rackets on the market aimed at advanced players.
Here, tennishead reviews and play tests the Prince Tour 100 310.
To buy any Prince racket with a 5% tennishead discount and free premium string upgrade visit our chosen tennis specialist partner AllThingsTennis.co.uk
Background to the Prince Tour 100 310
The Tour franchise has been developed to provide supreme control and enhanced feel for players with long fast swings. The addition of TeXtreme® material has created a Tour franchise with more stability than ever before, increasing the control to laser like precision whilst adding enough pop to hit clean winners.
Key Features: TeXtreme® technology, Clean Cosmetics, Highly Visible
Primary Performance Benefit: Superior racquet stability without increased stiffness, Unmatched mix of power, spin and feel, Most control oriented racquet in Prince collection
Plain & Simple: The ideal choice for players with longer, faster swings

The play test
"You really didn't require much force or effort from your body to produce power with this Prince. It could generate a lot of power so I found myself confident to step in a lot. For someone who hits the ball clean and hard this is on the money," Will told Tennishead.
"Using that force I enjoyed the match play with this frame, I could land a shot deep and quickly get back into the point.
"If we are looking for a comparison the power was on a pretty similar level to the Technifibre I tried, but with a stronger sense of control."
For its weight this Prince is a brilliant blend of power, spin capabilities and manoeuvrability.
The second generation of the TeXtreme technology is evidently helping to reduce any twisting in the frame on contact.
By focusing on the lower loop of the rackets, Prince have unlocked the ultimate stability.
Buy the racket here with a 5% discount
Technical specifications
Even though you've been playing tennis for a while and have probably bought and used multiple different rackets, do oyu really know what all the different technical specifications mean and how they influence the racket you use? Make sure you have all the knowledge by reading our guide to tennis racket specifications here
Prince Tour 100 310
Head size ⇒ 100sq inches
Weight ⇒ 310g
String pattern ⇒16×18
Balance ⇒ 310mm
Beam ⇒ 22mm/23mm/20mm
Length ⇒ 27in
String tension ⇒ 48-58lbs
For more advanced racket reviews and play tests of the all the best rackets on the market try our Gear section
Now watch what happened when the tennishead experts tested 8 of the best new advanced rackets on the market, including the Head Graphene 360 Radical MP, in our 2019 testing day (Big thanks to Jack from JackMansfieldVideography.com):
Look ahead to the rest of 2019 with our guides to every tournament on the ATP Tour and the WTA Tour. If you can't visit the tournaments you love then do the next best thing and read our guide on how to watch all the ATP Tour matches on television in 2019. To read more amazing articles like this you can explore Tennishead magazine here or you can subscribe for free to our email newsletter here