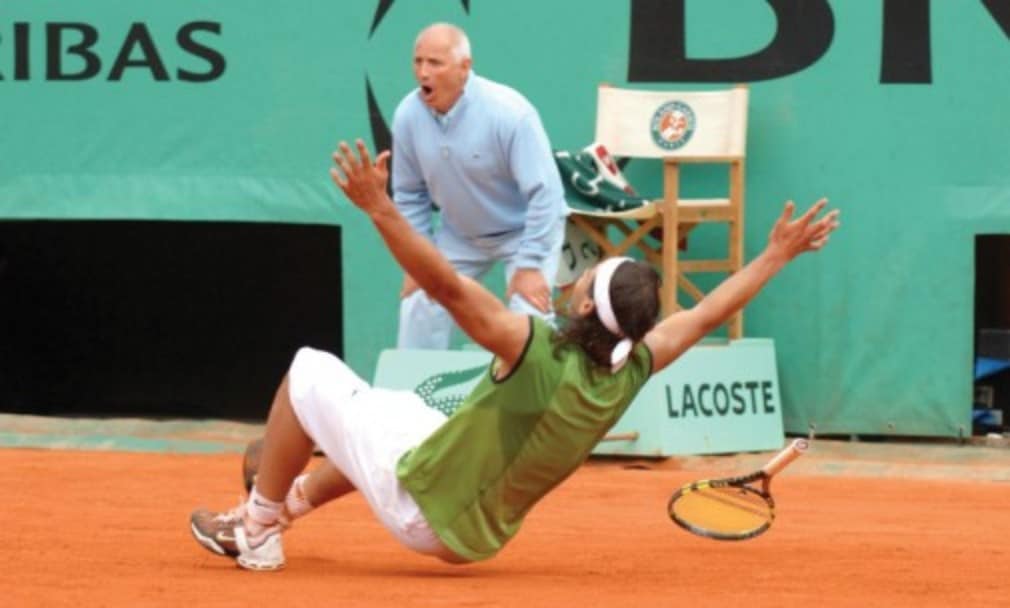 Action Replay: Nadal v Federer, Rome Masters 2006
Originally published on 17/05/14
If there was one meeting that set a benchmark for the classic matches between Roger Federer and Rafael Nadal it was their confrontation in the final of the 2006 Rome Masters. Nadal saved two match points before winning 6-7, 7-6, 6-4, 2-6, 7-6 after five hours and five minutes of relentless drama on a glorious sun-kissed afternoon.
The world's two best players had already met in two finals that spring, Nadal having won in Dubai and Monte Carlo. Federer, meanwhile, was gearing himself up for an attempt at the French Open to become only the third man in history to hold all four Grand Slam titles.
Rome offered the chance to strike a psychological blow against a teenager who had taken the sport by storm in the previous 12 months. Today's centre court at the Foro Italico is the epitome of modern elegance. The 2006 final, however, was one of the last played on the old centre court, an atmospheric arena which had been the stage for so many fiery encounters in front of passionate crowds.
Federer had always believed that to beat Nadal on clay he had to play his own attacking game. He did so this time, hitting his ground strokes with great power and advancing to the net at every opportunity. Nadal, too, did what he does best, chasing every ball and turning defence to attack at the flick of a wrist. The match was full of stunning rallies as Federer charged forward and Nadal counter-attacked.
Federer won the first tie-break 7-0 with some spectacular shot-making, but Nadal recovered from 4-2 down to take the second 7-5. As Nadal won the third set Federer grew frustrated. Angered by what he considered coaching from the sidelines by Toni Nadal, the Swiss shouted out: "Is that all right, Toni?" Federer said afterwards that he had "caught him in the act" and complained that officials "don't keep a close enough eye on him".
Nadal had break points early in the fourth set, but Federer broke serve twice to take the match into a fifth set. The first five games of the decider took half an hour as Federer's attacking brilliance was matched by Nadal's indomitable defence. Nadal retrieved an early break but was 5-6 and 15-40 down when Federer scorned two match points with poor forehands. Federer led 5-3 in the tie-break, only to make four successive errors, including three on his forehand, to give victory to Nadal.
"He caught me right on the finish line," Federer said afterwards. "It was very close, from start to finish."
Nadal said it had been "a very emotional match". His 16th career title as a teenager matched Bjorn Borg's record, while his 53rd successive win on clay equalled the record set 29 years earlier by Guillermo Vilas. Many more triumphs would follow for Nadal, but few have been as hard-earned.
WHAT HAPPENED NEXT Nadal denied Federer his place in history by beating him in four sets in the final of the French Open. Federer finally ended a run of four successive defeats to his big rival by beating him in that summer's Wimbledon final. Nadal, however, has consistently held the upper hand: his only defeats to Federer in 11 Grand Slam meetings have been in the 2006 and 2007 Wimbledon finals.