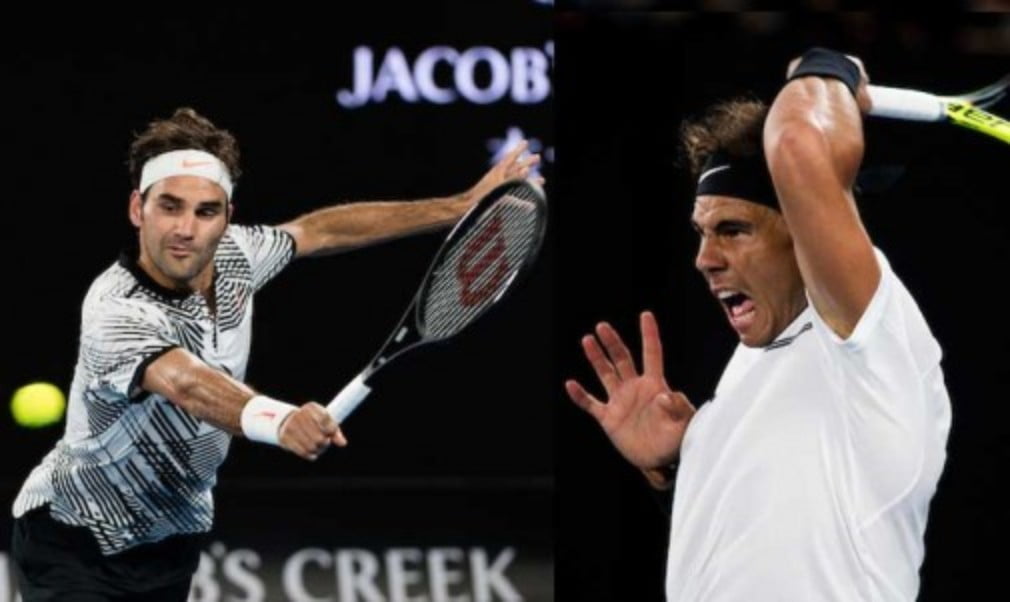 A rivalry resumed
Originally published on 28/01/17 00:00
On Sunday, Nadal will meet longtime rival Federer in the Australian Open final, the first time the pair have met in a Grand Slam final since the 2011 French Open.
In the first Australian Open men's singles final since 1972 to feature two 30-somethings since 1972, two of the greatest players of all time will meet again on the biggest stage – to the delight of tennis fans around the world.
The last time two 30-somethings played in a major final was the final chapter in another great rivalry, when Pete Sampras beat Andre Agassi at the 2002 US Open.
If their 35th career meeting on Sunday proves to be the last meeting between the No.17 seed Federer and world No.9 Nadal, it is only fitting that they meet in a final – 21 of their previous 34 meeting have been a title match. Theirs is a rivalry that has captured the imagination. There is no doubt that their contrasting game styles and characters, graciousness in defeat and ultimate respect for each other has transcended the sport over the past decade.
"It is amazing for me, for me and I think for tennis, too," said Nadal. "It is the combination of two different styles that makes the matches really special.
"Both of us, I think, having a lot of good success with these two different styles. I feel that this rivalry goes not only in the tennis world. People from outside of our world talk about this, and that's good for our sport."
Federer is bidding to follow in the footsteps of Sampras, who won his final Grand Slam title as the No.17 seed in New York in 2002. The 17-time Grand Slam champion has only won 11 of his previous 34 matches against Nadal, although his record on hard courts is better, with Nadal winning nine of their 16 previous encounters.
"I just think he's an incredible tennis player," Federer said of his rival. "He's got shots that no other one has. When you have that, you are unique and special. Plus he's got the grit.
"He's got the mental and physical ability to sustain a super high level of play for years and for hours and for weeks. He's proven that time and time again. He's come back from many injuries, you know, time and time again. He made it seem easy, and it's not. I think he's been tremendous for the game. I have a lot of respect for him on many levels."
While Federer, who beat Stan Wawrinka in five sets on Thursday, has the benefit of an extra day to recover before Sunday's final, history suggests that it is not necessarily an advantage.
For five out of the past nine years, the man who has played the second semi-final has gone on to win the title. While Nadal has a day less to recover from his five-hour epic against Grigor Dimitrov, the Spaniard insists it is not a problem for him.
"If you play a match like I had today, probably it is true that you are in disadvantage," admitted Nadal. "But I cannot complain about that. I think is good.
"For me was much more unfair when you played the US Open two days in a row because then you are in a big disadvantage," added Nadal, referring to the old scheduling at Flushing Meadows that saw both men's semi-finals played on the Saturday ahead of a Sunday final. "If you play a match like I played today, probably tomorrow you are dead, no chance.
"That's a more disadvantage than here. I cannot say that's not fair. Is a very important match for both of us. I hope to be ready to compete well again. I will try to do all the things the right way to be ready for Sunday."
Nadal will take heart from the fact that the last time he won in Melbourne, he needed five hours and 14 minutes to see off Fernando Verdasco in the semis before beating Federer in a five-set final, although, as he was quick to point out, he was eight years younger at the time.
It seems, however, that both players are reaping the benefits of a lengthy break. Federer called time on his 2016 season in July to properly recover from knee surgery, while Nadal played just five events after pulling out of Roland Garros with a wrist injury and eventually called it quits in October.
"It was a good thing to do," Federer reflected on his decision to take a six-month break. "You can only ever do so much treatment to feel decent. What I've just come to realise is when you don't feel well, you have too many problems going on, you just won't beat top-10 players.
"At some point you reach a limit, and you just can't go beyond that. You can play them tight. You might win one of them. You just can't win back-to-back. Just not feeling free enough in your mind, in your body.
"That's where both, I guess, Rafa and myself said, Okay, enough of this already. Let's get back to 100%, enjoy tennis again, enjoy the practice. Not just practice, treatment, practice, treatment, match, treatment. All the time all you're doing is fighting the fire.
"From that standpoint, yeah, the six months definitely gave me something in return. I didn't go into a direction where I felt like I had to reorganise my life or reorganise my tennis in any way. I just wanted to get healthy again."
Roger Federer v Rafael Nadal

Nadal leads the Head-to-Head 23-11
2004 Miami, Nadal d. Federer 6-3 6-3
2005 Miami, Federer d. Nadal 2-6 6-7(4) 7-6(5) 6-3 6-1
2005 Roland Garros, Nadal d. Federer 6-3 4-6 6-4 6-3
2006 Dubai, Nadal d. Federer 2-6 6-4 6-4
2006 Monte Carlo, Nadal d. Federer 6-2 6-7(2) 6-3 7-6(5)

2006 Rome, Nadal d. Federer 6-7(0) 7-6(5) 6-4 2-6 7-6(5)
2006 Roland Garros, Nadal d. Federer 1-6 6-1 6-4 7-6(4)
2006 Wimbledon, Federer d. Nadal 6-0 7-6(5) 6-7(2) 6-3
2006 Tennis Masters Cup, Federer d. Nadal 6-4 7-5
2007 Monte Carlo, Nadal d. Federer 6-4 6-4
2007 Hamburg, Federer d. Nadal 2-6 6-2 6-0

2007 Roland Garros, Nadal d. Federer 6-3 4-6 6-3 6-4
2007 Wimbledon, Federer d. Nadal 7-6(7) 4-6 7-6(3) 2-6 6-2
2007 Tennis Masters Cup, Federer d. Nadal 6-4 6-1
2008 Monte Carlo, Nadal d. Federer 7-5 7-5
2008 Hamburg, Nadal d. Federer 7-5 6-7(3) 6-3
2008 Roland Garros, Nadal d. Federer 6-1 6-3 6-0
2008 Wimbledon, Nadal d. Federer 6-4 6-4 6-7(5) 6-7(8) 9-7
2009 Australian Open, Nadal d. Federer 7-5 3-6 7-6(3) 3-6 6-2
2009 Madrid, Federer d. Nadal 6-4 6-4
2010 Madrid, Nadal d. Federer 6-4 7-6(5)
2010 ATP World Tour Finals, Federer d. Nadal 6-3 3-6 6-1
2011 Miami, Nadal d. Federer 6-3 6-2
2011 Madrid, Nadal d. Federer 5-7 6-1 6-3
2011 Roland Garros, Nadal d. Federer 7-5 7-6(3) 5-7 6-1
2011 ATP World Tour Finals, Federer d. Nadal 6-3 6-0
2012 Australian Open, Nadal d. Federer 6-7(5) 6-2 7-6(5) 6-4
2012 Indian Wells, Federer d. Nadal 6-3 6-4
2013 Indian Wells, Nadal d. Federer 6-4 6-2
2013 Rome, Nadal d. Federer 6-1 6-3
2013 Cincinnati, Nadal d. Federer 5-7 6-4 6-3
Š— 2013 ATP World Tour Finals, Nadal d. Federer 7-5 6-3
2014 Australian Open, Nadal d. Federer 7-6(4) 6-3 6-3
2015 Basel, Federer d. Nadal 6-3 5-7 6-3