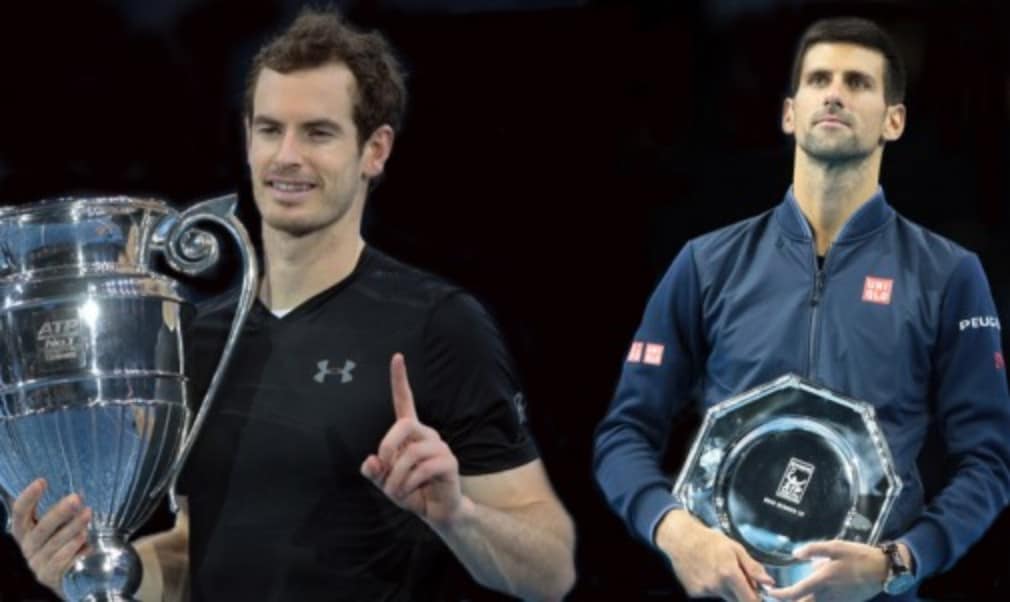 A rivalry continues
Originally published on 20/11/16 00:00
The crowd was deafening and as the sponsor ribbons on the enormous trophy brushed over his hair, Andy Murray, the season-ending world No.1 and 2016 Barclays ATP World Tour Finals champion, was covered in ticker tape as it fell from the roof of the O2 Arena.
It was a magnificent end to an amazing year for Andy Murray. Novak Djokovic, his opponent in the final, also had a remarkable first half of the year. He won the French Open in June, and in so doing achieved a rare feat in tennis, to hold all four Grand Slam titles at the same time – a fact that Andy Murray, in a sign of the respect he has for his opponent, mentioned in his on-court post-match interview at The O2.
The pair has, what Murray describes as "a tough rivalry" and in 34 meetings coming into the final the Serb had won 24 of those meetings.
"It was a big match against someone who I have played many times in my career," Murray said. "That would be my main rival really throughout my career. We played in all of the Slam finals, Olympics, obviously here, now and a match to finish the year end No.1."
It was significant that in the final Murray took the first set 6-3, he finally broke the Djokovic serve in the eighth game having failed to capitalise on two earlier break points, but then went onto hold his own serve to win the first set. On previous occasions where the pair have met, Murray had never beaten Djokovic without winning the first set.
In the second set Djokovic continued to make uncharacteristic backhand errors, 17 for the match in total, and although Murray only converted two of six break points in the second set it was enough to enable him to take the set 6-4 in just under an hour.
The Scot, who had spent just under ten hours on court prior to the final, compared to Djokovic's six-and-a-half hours, didn't let any tired legs show, and he managed to find his way through a 33-stroke rally midway through the second set before finishing off the final in one hour and 42 minutes, his shortest match of the tournament.
Murray admitted that he had woken up on Sunday morning feeling tired after needing three-hour 38 minutes to beat Milos Raonic on Saturday. "I felt tired," he said, "I slept well last night but I did not feel great this morning, The practice, the warm up for the match, I was hitting the ball fine but just a bit sluggish, a but heavy legged."
Djokovic did not expect his opponent to feel tired. "I expected him to play on a high level," he said. "It wasn't my day. Credit to Andy for being mentally tough and playing the right shots, making me play extra shots in every rally."
Murray has won 77 matches this year, more than any other year in his career. This includes wining Wimbledon for a second time. a second Olympic medal and celebrated his 29th birthday by beating Djokovic for the ATP Masters 1000 title in Rome. Winning the ATP World Tour Finals is another milestone.
"To finish the year like this is the best possible way to finish a year, I've often finished on a bit of a downer after here because I haven't played that well," said Murray, who had only reached the semi-finals in London twice. "But the last two years have finished well with the Davis Cup and now this.
"I am happy for my team as because they put in a lot of had work getting me ready for these matches. I've lost a lot of them over the years. It's nice and I am happy for them that I managed to win a big one like this."
Reflecting on his year Murray said: "The Olympics felt really special I think because of the way the match was. It was a really, really hard match, tough match against [Juan Martin] Del Potro in the final. That one felt the most satisfying. It was a big week for me that one. I got to carry the flag at the opening ceremonies which was incredibly special, and something I didn't expect I'd ever get the chance to do."
Murray is the first man aside from the trio of Roger Federer, Rafael Nadal and Novak Djokovic to claim the year in No.1 spot since Andy Roddick in 2003. It accounts for why he owns another record – that of being the man with the longest time between becoming world No.2 and No.1 – seven years and 82 days.
The rivalry with Novak is set to continue, and right now the world No.1 and No.2 will follow the same path – heading for a well-earned end-of-season rest.