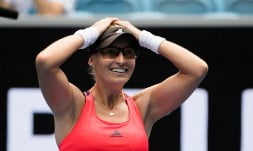 A really remarkable story
Originally published on 25/01/17 00:00
This has to be the feel-good story of the tournament. With her defeat of Wang Qiang in the first round, 34-year-old Lucic-Baroni won her first main draw match in Melbourne since 1998, that's 19 years ago – Martina Hingis was world No.1 and Serena Williams had not yet won her first career title.
The gap between match wins at a Grand Slam overtook the previous record held by Kimiko Date Krumm, who went 17 years between Wimbledons from 1996 to 2013.
As she was interviewed on court after her 6-4 3-6 6-4 quarter-final victory over No.5 seed Karolina Pliskova, she said: " I can't believe this, this is crazy. I feel a little bit in shock right now."
A junior champion in Melbourne in 1997, Lucic-Baroni won the 1998 Australian Open women's doubles title aged 15 with Martina Hingis, and when she reached the semi-finals at Wimbledon a year later, her trajectory was seemingly upwards. But her life got complicated and for various reasons, the details of which have never been fully disclosed and allegedly include an abusive father, she did not live up to the tennis potential that she first showed.
"I never could dream about being here again," she said, voice breaking, to Rennae Stubbs on court immediately after the match. "I know this means a lot to every player to reach the semifinals but to me this is overwhelming. I will never ever forget this day or this last couple of weeks. This has truly made my life, and everything bad that happened, has made it OK and just the fact that I was this strong and that it was worth fighting this hard, it's really incredible."
With a current world ranking of No.79, Lucic-Baroni defeated world No.3 Agnieszka Radwanska in the second round, her first win in 18 months against a Top 5 player. As the seeded players dropped out of the bottom half of the draw, the Croatian then defeated world No.94 Maria Sakkari and American qualifier Jennifer Brady to reach the quarter-finals.
Her victory today over US Open finalist Pliskova was hard fought. The Croatian had to take a medical time out trailing 3-4 in the final set, before returning to take three games to win the match in an hour and 48 minutes.
"I was really worried. I was concerned. I didn't know if I had it in me to finish," she said. "And I just said to myself, I said, 'They're either going to wheel you out. I mean, I'm not going to give up, just keep fighting'. And that was it. I just kept encouraging myself to keep going, to stay strong."
Her reward for that hard fought win is a semi-final match-up with Serena Williams, a first meeting between the pair since Wimbledon 1998, when Williams won 6-3 6-0. They also played in Sydney earlier that year, when Williams won in three sets.
"Serena is our greatest champion, for sure, the greatest tennis player that ever played the game," she said. "So it's going to be incredibly tough.
"She's a great champion. I'm not bad myself. I think it will be a good match. I will work hard. I will fight hard. And we'll see. Hopefully it will be fun."
"It was on Centre Court," Serena recalled about their last encounter almost two decades ago. "That's all I remember. I remember winning. I was so excited because I was so young. She obviously was super young, too. That's all. Honestly, we have totally different games now, the both of us. We both have gone through a lot. We both have survived, and here we are, which I think is a really remarkable story."