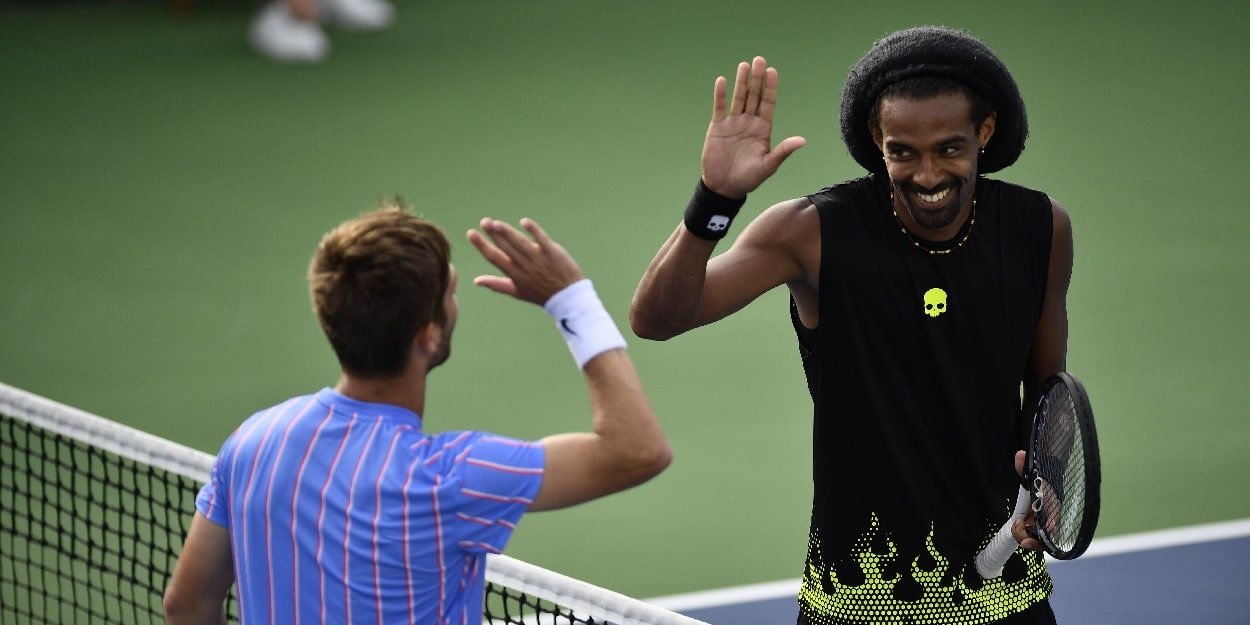 A handy guide to all the changes for Ultimate Tennis Showdown 2
After taking just one weekend off, Ultimate Tennis Showdown has already returned for its second edition. In spite of the quick turnaround, a number of changes have been made to the format – some more significant than others – and here we'll take a look at all that's new, for better or for worse, for Ultimate Tennis Showdown 2.
Women are included
Obviously, this is a welcome move, but it is a shame that the women's event is only made up of four competitors, meaning there will be just three matches (two semis and then the final). This may be because the WTA tour is set to resume slightly earlier than the ATP tour, with the Palermo Ladies Open due to begin August 3rd and Prague the week after, and many players will be opting to play in those tournaments instead, but whatever the reason, a small women's event for Ultimate Tennis Showdown is better than none.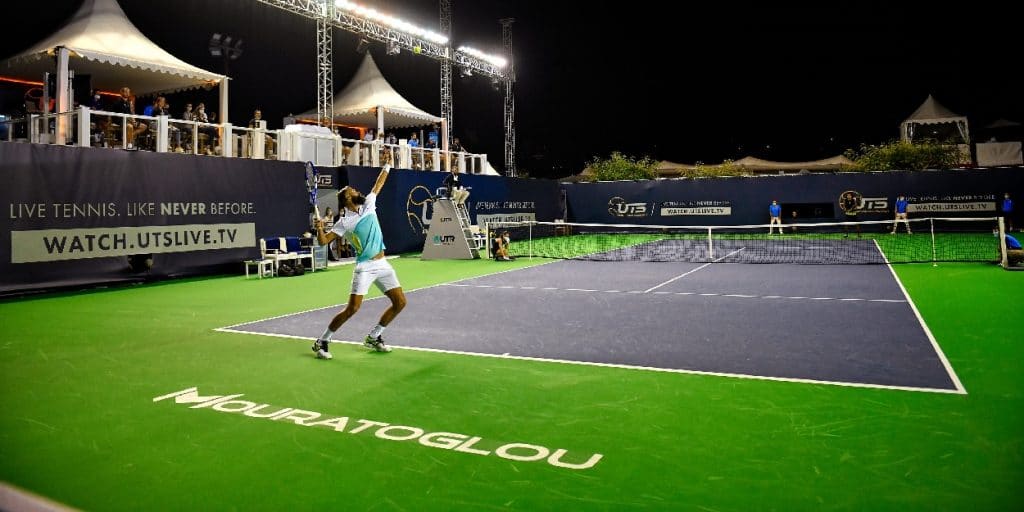 Doubles is definitely not included
Doubles tennis was not a part of Ultimate Tennis Showdown 1 but for UTS2 the doubles lines have been removed from the court. This does not signify much as they could easily be replaced in the future, but whilst their absence is initially a little jarring, it does give the court a unique look that lets the viewer know that this isn't tennis as they're used to it.
New card set up
The Ultimate Tennis Showdown cards, in spite of being dismissed as gimmicky by some, were key to the success of Ultimate Tennis Showdown 1. However, the fact that the majority of the players would pick the exact same cards for every match did get a little monotonous and that has now been remedied.
Firstly, two new cards have been introduced. One forces the opponent to serve and volley whilst the other means that the next two points will be worth double for the user. More interestingly, however, is the need for players to switch up their card choices between quarters. This ensures that each player must use at least five of the six cards during a match and this provides so much more variety. A fantastic alteration.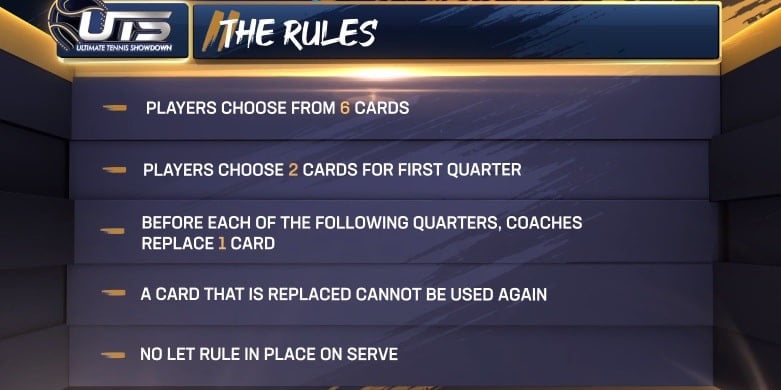 No let
There were already no on-court warm-ups and a 15 second shot-clock, but now, to speed things up even more, no lets are being called on serve. This isn't an especially wild change but it can prove to be significant. Benoit Paire fell victim to the rule change in his match against Fernando Verdasco when the Spaniard's serve scraped the net-cord whilst his 'Winner x3' card was in play, gifting him a valuable three points. This adds an extra lottery element to proceedings but that's perfectly in keeping with the rest of the tournament set-up and moments like those between Paire and Verdasco may be cheaply earnt drama but they are no less welcome for it. No one would want to see a Grand Slam final decided on a shot like that, but in a fast-paced exhibition event it's all part of the fun.
New commentary set-up and Bob Sinclar
The rapport between commentators Jenny Drummond and Pete Odgers was a highlight of Ultimate Tennis Showdown 1 and it seems a shame to break that up, but one can have too much of a good thing so it does make sense to mix things up and keep it fresh. A new commentator, Adam Fielder, has been added to the line-up, and so the commentary booth now has two of the three calling a match with the third providing post-match interviews. The team members' roles are rotated from match to match and, much like the new card set-up, this provides some necessary variety.
Prior to the matches, and during the changeovers, there is now music being provided by French music producer and DJ, Bob Sinclar. This is no bad thing, and the music helps with the atmosphere when there's no crowd to make a noise, but the camera does seem overly keen to focus on Sinclar, cutting to him with bizarre regularity, perhaps because at a spectator-less event there is no-one else to cut to. Having a DJ on site is fine, but the viewers do not need to be reminded of his presence at every given opportunity.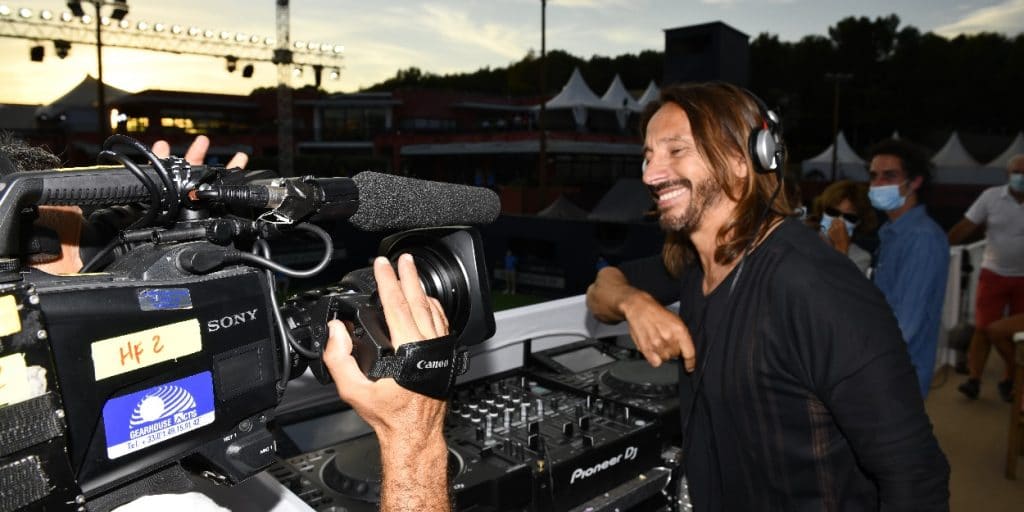 So, all-in-all, the organisers appear to have learnt from some of UTS1's minor shortcomings and have taken steps to make improvements where necessary. With such a short gap between UTS1 and UTS2 they could have been forgiven for resting on their laurels and just providing more of the same, but it's refreshing and highly commendable that they have chosen to bravely make further amendments to a format that was already wholly unique. It's a sign that UTS is open to flexibility and experimentation, and that can only be a positive for an event that has not been shy about wanting to become a permanent fixture.
One thing we have not mentioned here so far is perhaps the most significant change of all: that UTS2 is happening over just two weekends instead of five. This is likely a practical change as running another five-weekend tournament would eat into players' US Open preparations and clash with other professional events coming up soon. As UTS2 is just a relatively short, four-day event, it does beg the question of why it isn't just being held over four consecutive days. This may again be a practical decision based on player availability, or it may be due to the greater potential viewing figures at weekends. Looking ahead, however, it's hard to envisage a time when UTS would ever be able to mark out multiple weekends in a regular season's calendar for their events and get players to commit.
For now though, all is well, and we look forward to another weekend's action from the Mouratoglou Academy and the potential for yet more innovation.