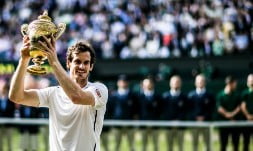 2016 in review: Murray's moment
Originally published on 27/12/16 00:00
It was not quite as historic as his 2013 victory, when he ended a 77-year wait for a British men's singles champion, but three years on, Murray's second Wimbledon victory was just as satisfying.
The world No.2 beat Milos Raonic 6-4 7-6(3) 7-6(2) on Centre Court to lift the third Grand Slam title of his career and match the major tally of Arthur Ashe, Jan Kodes and Gustavo Kuerten.
"I feel happier this time. I feel more content," Murray said of his second Wimbledon title. "I feel like this was sort of more for myself more than anything, and my team as well. We've all worked really hard to help get me in this position.
"Last time it was just pure relief, and I didn't really enjoy the moment as much, whereas I'm going to make sure I enjoy this one more than the others."
Three years since his last major victory, Murray got his hands on the trophy for a second time. It was Murray's first Grand Slam since he became a father – his daughter Sophia was born in February – but more significantly, it was his first major win since Ivan Lendl returned to his team. Lendl was Murray's coach for his first two Grand Slam wins but the two parted company in March 2014 before rejoining forces before the grasscourt season.