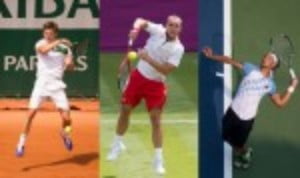 10 things you didn't know about Belgium
Originally published on 26/11/15
Belgium's last appearance in the Davis Cup final was over a century ago, back in 1904, when they finished runner-up to Great Britain. The British team of Lawrence Doherty, Reggie Doherty and Frank Risely won 5-0 against the two-man Belgian team of William le Maire de Warzee and Paul de Borman.
Belgium beat 2014 champions Switzerland 3-2 in the first round – the first time the holders were eliminated in the first round since Spain in 2005. However, with Roger Federer and Stan Wawrinka absent, Swiss captain Severin Luthi was forced to nominate singles players with a combined ranking of 920 for the first two rubbers.

Great Britain leads the head-to-head with seven wins from 11 previous encounters, but Belgium won their most recent meeting, beating a team featuring Dan Evans, Josh Goodall, Colin Fleming and Ross Hutchins 4-1 in Glasgow in April 2012.
Jacques Brichant is the most successful player in Belgium's history, playing 42 ties between 1949 and 1965, amassing a record of 52-27 in singles and 19-22 in doubles (71-49 overall).
David Goffin is 11-2 in Davis Cup singles rubbers, and both defeats went to five sets – against Viktor Troicki in February 2013 and Andrey Golubev of Kazakhstan in 2014. He is, however 1-22 against Top 10 opposition and has never taken a set off Andy Murray in their two previous meetings, most recently in Paris, where Murray won 6-1 6-0.

Steve Darcis, who is nicknamed The Shark, has a tattoo of a shark on his right shoulder. He is best known for upsetting Rafael Nadal in the first round at Wimbledon in 2013, but did you know he was a talented footballer as a junior and played for Standard Liege before focusing on tennis?
Ruben Bemelmans' coach Daniel Meyers is a former doubles partner of tennis' favourite entertainer Mansour Bahrami. They once coached Air France staff together.

The youngest player in the Belgian team, Kimmer Coppejans won the boys' title at Roland Garros in 2012, beating Filip Peliwo 6-1 6-4 in the final.

Belgium's captain, Johan van Herck has history against Great Britain. At the 1998 French Open van Herck, ranked No.96 in the world, upset world No.4 Greg Rusedski in the first round 6-4 6-4 6-4.
As a lucky loser, Belgian Dick Norman once beat Pat Cash and Stefan Edberg at Wimbledon. Granted it was 1995 and 1987 champion Cash was ranked No.213 at the time, but two-time Wimbledon winner Edberg was still top 20. Norman reached the fourth round, where he fell to another former champion, Boris Becker.