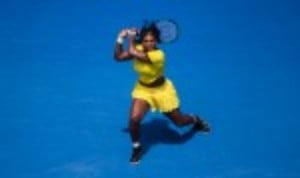 Š—…ExplosiveŠ—È Serena books place in semi-finals
Originally published on 26/01/16 00:00
Australia Day is celebrated each year on January 26, to mark the arrival in 1788 of the First Fleet of British ships in Port Jackson, New South Wales. And almost with the same certainty as this happens, Serena Williams notched up another victory over 2008 Australian Open champion Maria Sharapova.
Williams, whose last defeat to Sharapova came more than 11 years ago, made it 19 wins from 21 meetings against the Russian to keep herself on track for a 22nd Grand Slam title, which would equal Steffi Graf's Open Era record.
In a rematch of the 2015 final at Melbourne Park, the 55-minute opening set was fought with intensity by both players. After taking a medical time out before the start of the second set, Williams started the second set aggressively.
"I was just dealing with some food poisoning issues from a few days ago," said Williams, who raced to a 5-0 lead in the second set. Serving for the match the 21-time Grand Slam champion showed a few nerves, but when Sharapova failed to take two break points, Williams took her opportunity, putting away a volley winner on her first match point.
"I thought she served really well in the beginning of the second set," said Sharapova, who had served 52 aces in her previous four matches but only managed three against Willams. "I think if you're serving maybe 180 (KPH) against somebody else compared to Serena, that's an ace.
"Against Serena, as we all know, the return is one of her great strengths. She's very explosive. She stays quite close to the baseline. She cuts the ball early. She doesn't give you many angles. That's the reason I can't get so many free points against her."
And how does she come to terms with the 19th loss against the American? "It's motivating because she's at a different level," Sharapova said. "She makes you go back to the drawing board, not just for me, but for many other players. She makes you work. That's inspiring."
And why does Williams think she has enjoyed so much success against Sharapova? "Something about her game. I like the way she hits the ball," said Wiliams. "When I play her, I know automatically I have to step up my game. I think that makes me play better. When I play better, when I'm forced to play better, I don't know, I do well."
Standing between Williams and a 26th Grand Slam final is No.4 seed Agnieszka Radwanksa, who defeated Carla Suarez Navarro 6-1 6-3. In terms of Tour events, the world No.1 has an 8-0 head to head record with Radwanska, but when they last met at the 2015 Hopman Cup it was Radwanska who came out on top. The Pole is in the best form of her life, having won 27 of her last 31 matches. She won three titles at the end of 2015, including the WTA Finals in Singapore, and started 2016 in a similar vein, lifting the trophy in Shenzhen in the first week of the season.
"She got the better of me at Hopman Cup," Serena said. "It will be a good match. She's been playing really well towards the end of the year, and already this year she's been very consistent. She presents a completely different game, an extremely exciting game. So I think it will be a long match and it will be a good match to see where I am."